When most people think of concrete, if they ever do, it's simply that boring, grey material in their sidewalk or basement walls. That's not the case for two Iowa State Civil Engineering graduates who currently hold the top two spots at the American Concrete Institute: Jeff Coleman ('76, civil engineering; '77 master's in structural engineering) and Ron Burg ('77, civil engineering).
They both would be quick to point out that after water, concrete is the most widely used commodity on a per capita basis worldwide. They would also note that as a fundamental building material, concrete can be cast into almost any shape conceivable and using sophisticated technology can be designed to have a strength that varies by a factor of more than 10.
Coleman was elected to serve as the 2020-21 volunteer president of the ACI in April 2020, an organization he's been a member of for 40 years, and Burg  has served as the ACI staff executive vice president since 2010 and been an ACI member for almost 40 years.
In fact, according to the two Cyclone Engineers, modern civilization would not be possible without concrete for buildings, roads, bridges, water distribution, water treatment, data centers, power plants, and yes, even sidewalks. Their roles with ACI, a more than 100-year-old nonprofit technical institute, are key to developing and distributing the technology behind the versatile building material.
ACI is the world leader in providing technical information on the use of concrete, including the structural concrete building code, which is adopted by law in all 50 states and used by over 60 countries worldwide to design concrete structures. ACI has over 100 chapters, 200 student chapters, and 30,000 members spanning over 120 countries. ACI accomplishes its work with over 140 committees addressing all factors of concrete from its design, production, placement, testing, and even repairing and recycling. These committees are supported by ACI's staff of more than 120 that includes engineers, technical editors, software programmers, marketing specialists, technicians, certification experts, and educational content developers. ACI is by far the largest institute of its kind in the world devoted to concrete as a building material.
"Having the ACI president and executive vice president is the concrete world equivalent of the president and vice president coming from the same university," said Coleman. "This is a first in the long history of the institute. Serving as ACI president is also the greatest honor of my career, and I am proud to be serving such a wonderful organization with a fellow Cyclone."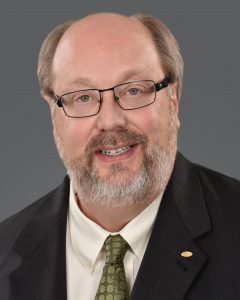 Coleman is a licensed professional engineer, attorney at law, and CEO of The Coleman Law Firm, LLC, in Minneapolis, Minnesota. He received his Juris Doctorate in 1984 and practices law in engineering, architecture and construction.
"The base knowledge in engineering I gained at ISU has been invaluable in my legal practice in construction law," Coleman said.
His master's thesis work involved research funded by the Iowa Department of Transportation and studied fatigue behavior of air-entrained concrete. This led to his early involvement with one of ACI's 120+ committees studying fatigue behavior of concrete.
Enter Burg.
Back in 1977, Burg worked on Coleman's graduate research project at Iowa State.
"I posted a call for help casting test beams," recalls Coleman.
Burg said the two didn't make the connection that they both worked on this project until 30 years later when both were active at ACI.
"I was an undergraduate at the time and had no idea of how our paths would cross much later in our careers," continued Burg.
And it's that Iowa State connection and education that Burg credits for providing him with a strong background in civil engineering, coupled with excellent soft skills: people management, communications and leadership. Both Burg and Coleman first learned of ACI and its building code requirements for concrete in their classes on concrete design based on ACI's flagship document known to all civil engineers as the Structural Concrete Design Code or "ACI 318." Today's civil engineering students still learn how to design concrete structures based on the ACI 318 code. Additionally, graduate students in civil engineering rely on many of the other more than 400 ACI technical reports on all aspects of concrete.
Under the leadership of Coleman and Burg, ACI has expanded its geographical footprint from its long-time world headquarters in suburban Detroit, MI, to include a regional office in Dubai, UAE, and a resource center in San Bernardino, CA, with additional locations expected in the coming years. Also, under their leadership and with the support of individuals and corporations, the institute and its foundation have increased the financial support provided to undergraduate and graduate students while also increasing the funding for cutting-edge research of concrete design and concrete materials.
The ACI Foundation has awarded academic scholarships to Iowa State graduates Jake Bigelow (2003-2004), John Kevern (2005-2006) and Thomas Vande Voort (2007-2008).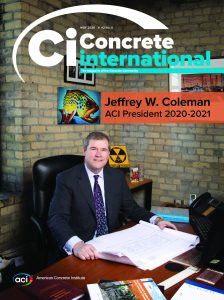 To further the Institute's mission, ACI develops, disseminates, and advances the adoption of its knowledge on concrete. In pursuit of this goal, Burg and Coleman facilitate knowledge transfer amongst global concrete organizations. Following years of global growth and cooperation, in recent months, the two have prioritized strengthening relationships with organizations similar to ACI from France, England, Brazil, Australia, Colombia, Guatemala, Thailand, Peru, Chile, India, the Philippines, Japan, UAE, Vietnam, and beyond, to ensure that everyone has the knowledge needed to use concrete effectively to meet the demands of a changing world.
Coleman was elected as a Fellow of ACI in 2001 and received the ACI Delmar L. Bloem Distinguished Service Award in 2016. Burg was elected a Fellow of ACI in 1995 and received the ACI Wason Medal for Materials Research in 2001 for his co-authored paper on the latest technology for compression testing of high-strength concrete.
In addition to their current roles with ACI, both men have had other leadership roles within the institute. Both have chaired technical committees, served on board-level committees and are active in the institute's foundation. Both men have been active outside ACI, too. In 2020, Concrete Construction magazine chose Coleman as one of the most influential people in concrete construction. The Expanded Clay and Shale Institute awarded Burg the Frank G. Erskine Award for his outstanding contributions to the use of lightweight aggregates in concrete. Burg is a recognized expert on high-strength concrete and has authored over 30 peer-reviewed papers on this and other concrete-related subjects. Additionally, Burg has served as an expert witness on many concrete related cases. As an attorney, Coleman has litigated numerous high-profile cases. Ironically, and probably fortunately, they have never met in the courtroom.
There are also several other Iowa State civil engineers who have or had key roles at ACI. These include ACI past president, James Cagley ('58, architectural engineering), ACI's first female honorary member, Mary Hurd ('47, civil engineering), and current civil, construction and environmental engineering department chair David Sanders ('84, civil engineering), who has held many leadership roles at ACI.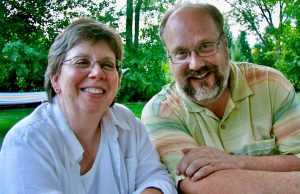 Both men have deep ISU roots. Burg was born in Ames and lived in Pammel Court while his father earned his bachelor's in electrical engineering. Burg and his wife are members of the Order of the Knoll. Coleman's grandmother attended ISU as did both his parents. His stepson now attends ISU, which makes him the fourth generation of Colemans.
When asked about their favorite memory of Iowa State, Coleman recalls time with his fraternity brothers while Burg notes that he met his wife, Jill Humphrey (BS Landscape Architecture '78), when both were students at ISU.
Both men have advice they would like to pass along to current and future Iowa State students.
Coleman urges students to "keep your options open and have a 'Plan A,' but also a 'Plan B' and 'Plan C.'"
"I never set out to be an attorney, but I realized early in my career as a structural engineer that the construction industry lacked attornies who understood the technical aspects of design and construction, including concrete design, production and construction," Coleman said.
Burg advises students to take advantage of all that ISU offers beyond the basic educational component.
"You never know who you'll meet and what opportunities will show up as your career unfolds," he said.
Both agree that especially in today's climate and job market, taking advantage of everything Iowa State offers is imperative.