Graduate student Nick David collaborated with many others to develop a solar crate.
The Electric Power Research Center (EPRC) at Iowa State University has received a grant from the Iowa Economic Development Authority to develop a solar power crate to be installed at Camp Dodge in Johnston, Iowa.
David recently received his Ph.D. in electrical engineering from Iowa State. His work is involved in the field of power electronic generator control for wind energy systems. David also has interests in the areas of battery technology and electronic transportation.
David was asked to join the solar crate project as a test engineer.
So what exactly is a solar power crate? EPRC Director Anne Kimber describes a crate as a portable energy source that could transform disaster response.
"Imagine a green box, a shipping crate, that a truck brings to your neighborhood, a nearby gas station, your city hall, your grocery store, or maybe a cell tower after a disaster that led to a loss of power and communications," Kimber said
David's role in the project was to build the test systems and collect data. The data collected is used to validate the functionality of the microgrid and it is also used in simulation studies, David said.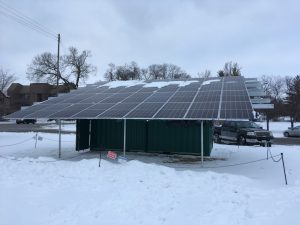 "In this way, we gain the assurance of reliable operation and improve our understanding of the phenomena that is
characteristic of these systems. This knowledge and experience is useful in considering the future application of microgrids to enhance energy-need scenarios," said David.
Some other individuals involved with the project include Jinqiang Liu, a Ph.D. student of mechanical engineering professor Chao Hu; EPRC Director Anne Kimber, the primary investigator for the project; Dolf Ivener, who invented the SunCrate mobile microgrid system; and Hoang Dang, an undergraduate student in electrical engineering. Dang specialized in testing and simulating microgrid energy systems for this project.
"This microgrid is an example of adapting the local energy resource for the needs of the locality. I do not know what the future holds, but I believe our efforts will make the world a better place. After all, this is the technology that progress has brought." David said.