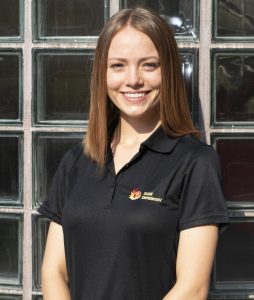 From fuel-efficient snowmobile engines to the electric motors in the Tesla Model Y, mechanical engineering student Katie Lyon has a passion for environmentally friendly vehicles.
Lyon grew up in Burnsville, Minnesota and as a child loved playing with Legos, Lincoln Logs and other toys that allowed her to combine her creativity with her analytic skills. She further developed her interest in STEM in high school and said she was intrigued by the possibility of using science and math principles to solve complex problems.
For college, Lyon knew she wanted to attend a large university that would provide many opportunities both inside and outside of engineering.
"I wanted to meet people from all different majors and backgrounds while also being able to tailor my engineering experience to my passions," she said.
She chose mechanical engineering (ME) as her major because at the time she was not sure what industry she would pursue, so she felt ME provided her some career flexibility while also allowing her to pursue her passion of working on "things that move." When she got to Iowa State, she continued to pursue this passion through her involvement in the SAE Clean Snowmobile Challenge. She and her teammates are tasked with taking an existing snowmobile engine and modifying it to make it more fuel-efficient.
"Clean Snowmobile does a fantastic job of marrying two of my largest engineering interests – the automotive industry and clean energy solutions – and has really allowed me to get a taste of what working in those industries might entail," said Lyon.
This experience with Clean Snowmobile really paid off when she landed a spot as a Manufacturing Equipment Engineering Intern at Tesla's Fremont factory for the summer of 2020. She and her team were responsible for ensuring the Model Y General Assembly line was running as efficiently, consistently and safely as possible. The team was responsible for finding areas of improvement, designing solutions, implementing the final products and other tasks as they came about.
Lyon said she has taken concepts and principles from the ME curriculum and applied it to her work at Tesla. Specifically, she has used statics, physics and materials engineering to ensure a design would be able to withstand the forces to which it would be subjected. Additionally, she said her knowledge of 3D modeling using SolidWorks, which she learned in her freshman engineering design course, was helpful during her internship.
Paola Pittoni, an ME associate professor of teaching who taught Lyon's freshmen engineering design course, has actually been one of Lyon's strongest mentors during her time at Iowa State, and also one of the first female engineering faculty members she has studied under.
"She has always been extremely helpful and supportive throughout my time here and inspires me to be as passionate and deliberate of a person and engineer as her," Lyon said.
In her free time, Lyon enjoys spending time outdoors, particularly going on walks and hikes. She also enjoys cooking and baking, and is currently obsessed with French macarons. Music is also an important part of her life and she enjoys playing both the piano and the cello.
Lyon plans to complete her studies in May 2022 and hopes to pursue a career in either the automotive or renewable energy industries after graduation. More specifically, she said she would love to work on the design of new vehicles, solar technology or biorenewable fuels. She said that passion is what has driven her in her professional life, so she encourages others to find the passion that drives them.
"I would encourage people to pursue opportunities they are passionate about even if they believe they might not be qualified enough for the job. I felt under-qualified for my position, and perhaps was, but the passion and determination I have for the industries allowed me to stand out amongst other applicants and really grow in the role I was given," she said.