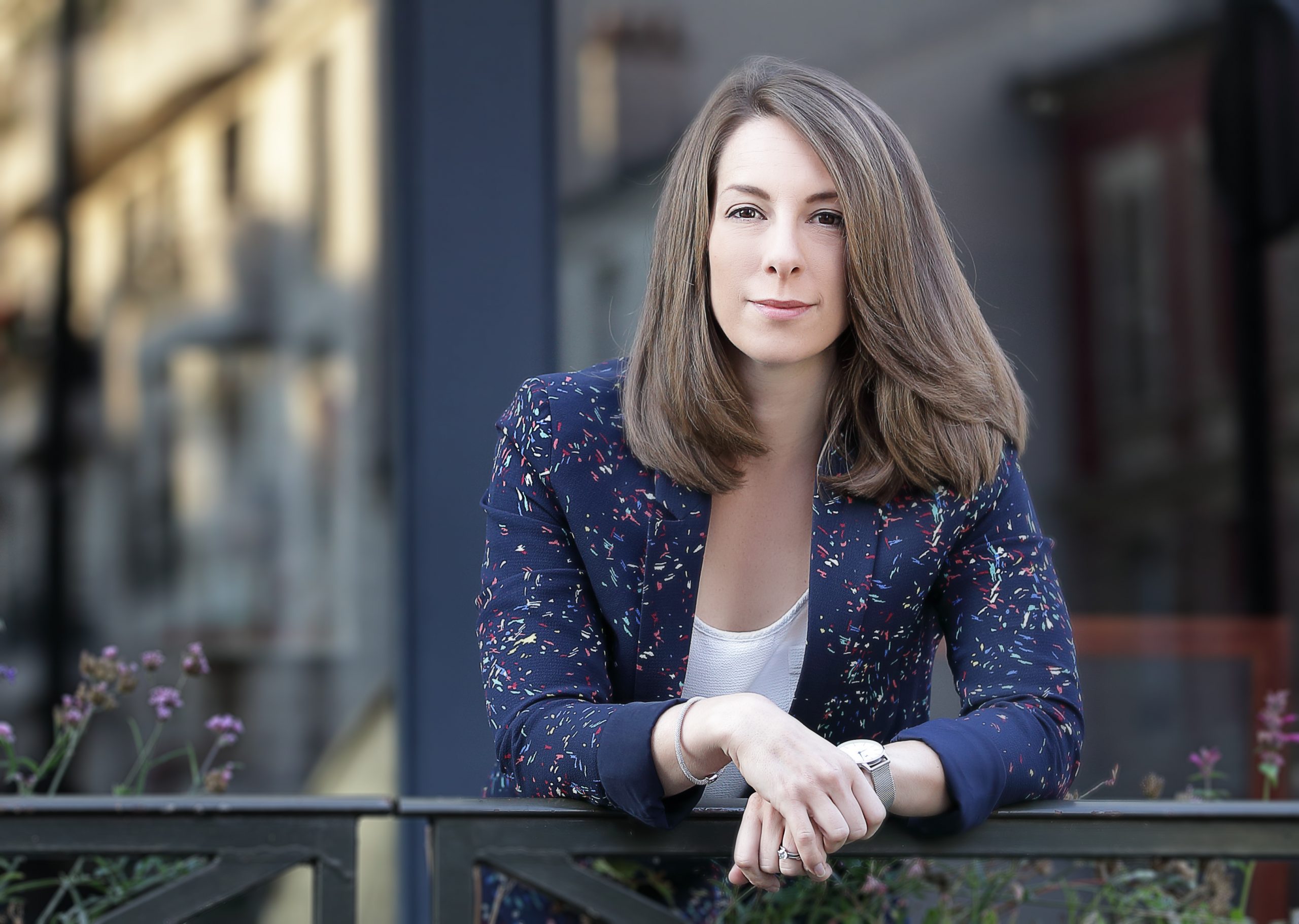 A pursuit of high-caliber experiences in engineering has led Sarah Walter on a cross-national career journey, spanning from Canada to Germany. The ME alum's passion for engineering was formed at an early age and driven by her strengths in science and math. When she turned 14, Walter began working in her father's car dealership, marking the beginning of her engineering journey.
"It was inevitable that I became interested in mechanical things as I grew up around cars and motorcycles," Walter said. "I remember my dad pushing me to go to college. He would say 'Sarah you are too smart to work in a dealership, go to school and design something that doesn't need to be fixed all the time'."
Growing up in the suburbs of Chicago, Walter attended high school at the Illinois Math and Science Academy, a boarding school in Aurora. Walter's roommate at the academy aspired to be a veterinarian and spoke highly of Iowa State University. Eventually, Walter decided to apply to start her journey in mechanical engineering.
"Iowa State was appealing to me because I received several scholarships, so it was affordable and reasonable, even as an out-of-state student," Walter said.
Becoming a Cyclone
For Walter, there were a number of selling points that ultimately led her to choose Iowa State over other universities. She recalls listening to Gloria Starns, associate teaching professor with the Department of Mechanical Engineering presenting the ME program to prospective Iowa State students. Starns would eventually go on to be Walter's academic advisor in the ME program.
"[Gloria] wanted us all to be successful," Walter said. "I didn't get the same feeling when visiting other universities."
Once Walter officially launched her undergraduate engineering adventure, she became heavily involved in the College of Engineering while leaning on an entrepreneurial spirit.
As a founding member of Alpha Sigma Kappa sorority for women in STEM, Walter learned how to both mentor and engage with other women in the field. She was also a dedicated member of Iowa State's SAE International Baja Car Team. During her fourth and fifth year at Iowa State, Walter joined the Engineering Leadership Program sponsored by 3M.
"Developing this program and watching the students flourish taught me about real service-based leadership," Walter said. "Teaching and mentoring others to enable them to become their best has become a life passion for me."
One of Walter's favorite engineering classes was a thermodynamics course taught by William Bathie, professor emeritus with the Department of Mechanical Engineering. The experience equipped her with critical problem-solving skills and an eye for innovation she uses in her career today.
From career fair to dream job
Aside from the ME program's appeal, Walter was also drawn to Iowa State given the College of Engineering's high career placement rates. Walter says the Engineering 101 orientation course taught by Starns readied her for the professional world. One of the assignments in the course was to attend the Engineering Career Fair and speak to at least one company. Walter could not have guessed where her participation would have led her.
"I spoke to seven different companies and a few weeks later I landed a co-op with Rolls-Royce in Indianapolis," Walter said. "I have been with Rolls-Royce now for 16 years, working across industries and in many amazing places."
After graduating from Iowa State, Walter joined the company in Indianapolis as a Combustion Design Engineer. After a few years of experience, she began working for Rolls-Royce's Director of Engineering and our Chief Scientific Officer in the United Kingdom. Eventually, Walter moved to Montreal where she served as the Assistant Chief Engineer in the Rolls-Royce Energy Business Unit.  
Today, Walter works in France as the Chief Technology Officer for Aero Gearbox International, a joint venture between Rolls-Royce and Safran Transmission Systems. 
"This truly is my dream job," Walter said. "I'm leading a small business, developing people and new technical challenge each day. It's a nice mix of operational management, product development and strategy."
The Cyclone adventure rolls on
After trekking across Canada, Germany and France over the past decade, Walter says her Iowa State engineering experience equipped her with the skills needed to succeed in her various roles.
"My education taught me how to approach a technical problem and how to be persistent even if I didn't particularly like the subject," Walter said. "Outside of the classroom I learned how to manage my time and how to – and how not to – lead."
Walter's skills have been put to the test in light of the COVID-19 pandemic. Since mid-March, France has been under a tight lockdown. Walter says her team has stayed resilient in the face of the instability and is successfully navigating new challenges.
"I am still going into the office to support my essential staff who are also working on site, although 90% of my team is working from home," Walter said. "This takes coordination and strong communication skills if you want to minimize efficiency losses."
Outside of exercising her passion for engineering, Walter is a mother, a wife and an avid weight lifter. She has also immersed herself into the world of stand-up comedy on occasion. In the near future, Walter aims to obtain a master's degree in systems engineering from Iowa State.