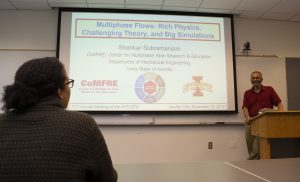 ME/ChE 632: Multiphase Flow gives students unique hands-on education and experience in multiphase flows, backed by the exceptional expertise of Iowa State's Center for Multiphase Flow and Research Education's (CoMFRE) faculty members.
Shankar Subramaniam, professor of mechanical engineering and who was instrumental in laying the groundwork for CoMFRE, has taught this course at Iowa State since 2007.
Course description: "The ME/ChE 632 course content is on multiphase flows, which are flows involving solid particles flowing in air or other gases (as encountered in sandstorms, coal-fired power plants or biomass pyrolysis reactors), or in water or other liquids (sediment transport, soil erosion by water runoff, sand in oil pipelines), liquid droplets in air (sprays as in car engines, aerosol droplets from people coughing), or air or other gas bubbles in water or other liquids (bubbles in the ocean or food processing and in chemical reactors)," said Subramaniam.
Project-based, student-driven learning: ME/ChE is an advanced graduate class focusing on project-based learning. Students pick a multiphase flow project of their choice and apply the skills learned in readings, lectures, and in-class activities to work through their project. Students take ownership of their projects and learning.
In fact, on some assignments, students grade themselves. Subramaniam hands them the rubric and students are expected to evaluate themselves. This gives them the responsibility to honestly reflect and assess their work.
In-person-distance blend: ME/ChE is unique because it is offered in-person and online so students working in the industry can enroll in this class.
Students in the distance section engage all the same activities as those in class, just asynchronously, on their own time. They are still getting similar experiences as those taking it on campus.
The course format made the March 2020 transition, when all Iowa State classes moved online, a little bit easier. Since Subramaniam was already uploading the lectures for his distance ed students, he was able to continue to meet with his class via Webex, use the recording feature and then upload lecture recordings for his students. While the students attending in person on campus still had to adjust to doing their in-class activities virtually, having the basics of virtual learning made the process as smooth as a change this big can be.
What students say: ME/ChE course is very popular among students. Hugh Warren ('12, M.S. '13 chem engr), a student in the distance education section, said, "I have seen the benefits almost immediately. The greatest benefit this course has given me is some new ways to think about these problems and how to treat them. My creative and critical thinking skills, I know have developed more as a result ­– and this is something that not only has immediate but also long-term benefits."
Barlev Nagawkar, a graduate student in mechanical engineering and student in the on-campus section, saw similar benefits."Not only did I get to build a strong foundation in multiphase flows, I think I am a better researcher because of it," said Nagawkar.
Nationwide leader in multiphase flow courses: Colleges across the country are designing courses similar to ME/ChE 632. Stanford University, Cornell University and the University of Florida all now have a course focusing on multiphase flows. Subramaniam has shared his course materials with peers at these and other universities as a reference as they are designing their courses.
Subramaniam believes there is a lot of scope for expanding courses and other learning modules in the area of multiphase flow for both students and industry practitioners, and is delighted that other faculty have also joined him in enhancing CoMFRE's educational mission.
CoMFRE director Ted Heindel, University Professor and Bergles Professor in Thermal Science, and James Michael, CoMFRE affiliate faculty member and assistant professor of mechanical engineering, have contributed guest lectures to this multiphase flow course.
Also notably, Alberto Passalacqua, CoMFRE associate director and associate professor of mechanical engineering, has offered short courses on a computational toolkit called OpenFOAM ­– as well as training courses in the Quadrature-based Moment Method (QBMM) formalism that is useful for modeling multiphase flows with particles, droplets or bubbles of different sizes and physical properties.
With the success of ME/ChE 632 multiphase flow course, Subramaniam believes it will be possible to continue expanding into new areas.