While we couldn't visit the gym for much of spring semester, virtual fitness instruction through Iowa State University Recreation Services brought the gym to homes across the Iowa State community.
Recent biological systems engineering graduate Emily Hou, and Nicaela Bungubung, a senior in College of Engineering, were both Rec Services fitness instructors this past semester. Bungubung and Hou led workouts online in lieu of in-person instruction that were normally offered at State Gym. Both are highly passionate about helping participants improve their health and wellness and achieve personal goals.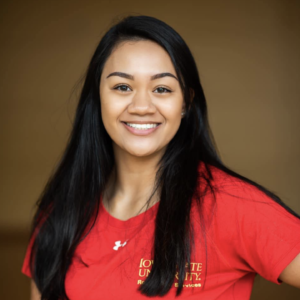 Adapting to new challenges
Bungubung, a senior in the recently launched cyber security engineering program, instructed Cross Training Fitness through live video sessions on Instagram. The class focuses on building strength and cardiovascular health through a high-intensity workout.
Bungubung says one of the biggest challenges created by the shift to online instruction has been the inability to capture immediate feedback from participants. As an instructor, Bungubung built strong and meaningful connections with participants, a practice she says has been difficult to replicate through virtual means.
Emily Hou was an instructor for the Barre and Dance Party classes. While Hou says it was difficult to gauge the energy of her participants and their performance, virtual instruction led her to think even more critically about her teaching delivery.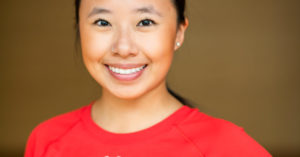 "[The shift] has pushed me to focus more on the quality of my teaching as I am able to go back and review my class on the story page," Hou said.
Ashley Artist, Fitness Coordinator for ISU Recreation Services, has shared positive feedback from participants with instructors. Bungubung says the responses instilled confidence in her role as an instructor and supported the work of fellow instructors for teaching online. 
"It's a great feeling," Bungubung said.
Pushing the limit, seeking challenges
Along with her passion for promoting health and well-being, Bungubung's decision to major in cyber security engineering stems from an interest in technology and computers that dates back to her childhood.
"I chose my major because I wanted to be in a field that will keep me on my toes," Bungubung said. "I knew I would learn the most and be challenged the most in the field of study."
Bungubung is hoping to continue instructing fitness classes in her post graduate career. She aims to secure a position in the field of cyber security and obtain a master's degree in business administration.
"I am just going to take it day by day, being the best me possible and everything will fall into place," Bungubung said.
For Hou, the discontinuation of person fitness instruction has not changed the value she places on helping herself and others stay physically active.
"Fitness and dance are a large part of my life and this job allows me to get away from the stress of school and focus on what I love doing," Hou said.
Hou chose to pursue a major in BSE to complement her interest in environmental sustainability. Over the course of her undergraduate career, she says the support of the Department of Agricultural and Biosystems Engineering has been very valuable.
"I love how personable the ABE department is and how dedicated they are to their students," Hou said.

As for her career plans, Hou plans to focus on international work in the field of environmental sustainability.