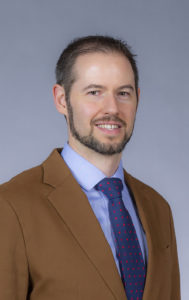 The innovative research of wound healing through the use of resonant sensors will take a step forward in Iowa State's Department of Chemical and Biological Engineering (CBE) thanks to a 3M young faculty award received by Nigel Reuel.
Reuel, assistant professor, Jack R. and Carol A. Johnson Faculty Fellow and Black and Veatch Building a World of Difference Faculty Fellow in Engineering, has received a 3M Non-Tenured Faculty Grant for "Smart Soft Materials – Adhesives and Bandages with Embedded Resonant Sensors."
Reuel has been awarded three years of funding to help support his research that will focus on using flexible resonant sensors for the purpose of embedding into adhesives and bandage materials to create a new generation of "smart" materials to wirelessly report on position, movement, or local environmental parameters in regard to wound treatment.
This competitive award is presented by 3M to recognize outstanding young faculty who excel in STEM research, academic leadership, and experience as a means of helping them achieve tenure.