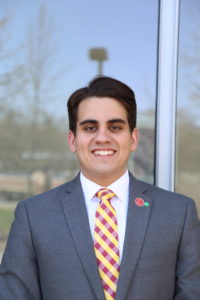 Juan Bibiloni-Rivera, junior in mechanical engineering, has been announced as a finalist for the national Harry S. Truman Scholarship. This scholarship is awarded to high-achieving student leaders in academia, research and healthcare throughout the United States.
Bibiloni-Rivera is the first finalist from Iowa State since 2015, and if selected, he will be the first Truman scholarship recipient from Iowa State since 2006.
According to the Truman Scholarship Foundation, these finalists are passionate, change agents pursuing careers in public service.
Bibiloni-Rivera is currently serving as board president of the Ames Transit Board of Trustees. He is also active in Iowa State's Student Government. Along with numerous other roles, he served as student body vice president in 2018-2019.
After graduating from Iowa State, Bibiloni-Rivera plans to pursue a master's of public administration focused on public financial management and social policy as well as a law degree focused on public interest law.
The Truman Scholarship Foundation received almost 800 applications this year. From these 800, they selected 190 finalists based on their records of community leadership, public service and academic achievement.
"We are so proud of Juan, and we are happy to see his hard work and dedication throughout the Iowa State and Ames community recognized," said Caroline Hayes, Lynn Gleason Professor in Interdisciplinary Engineering and mechanical engineering department chair. "It is always an honor to have a mechanical engineering student selected as a finalist for such a prestigious scholarship. "
After candidate interviews, the 2020 Truman Scholarship recipients will be announced on April 15.