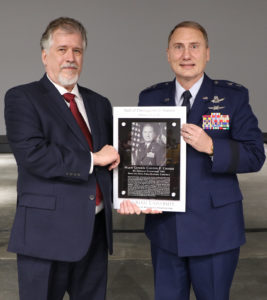 An Iowa State alumnus responsible for planning the recently launched U.S. Space Force has been welcomed into the Department of Aerospace Engineering (AerE) Hall of Distinguished Alumni.
Major General Clinton E. Crosier, who received a B.S. in aerospace engineering from Iowa State in 1987, returned to campus in connection with the recent U.S. Strategic Command (STRATCOM) Deterrence and Assurance Academic Alliance Conference. He delivered a keynote speech to conference attendees after being officially recognized as an AerE distinguished alumni member by AerE's Vance and Arlene Coffman Endowed Department Chair Alric Rothmayer.
Crosier, whose official title is Director, Space Force Planning, Office of the Chief of Space Operations, U.S. Air Force, was selected to lead development of the initiative in February, 2019.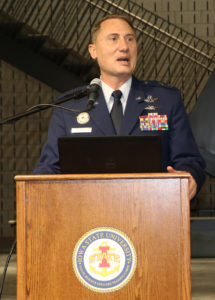 After graduating from Iowa State Crosier commissioned in the Air Force in 1988 and quickly earned top honors in multiple space training schools. He developed satellite commanding processes that became the new Air Force standard. He was hand-selected for an elite assignment in the U.S. Senate, authorizing key congressional language that improved the national space enterprise and in the Office of the Secretary of Defense as the key interface for the National Security Council rebalancing of America's space intelligence architecture.
"We are honored to present this recognition to Major General Crosier, who has distinguished himself as a representative of Iowa State University and as an influential leader in protecting the interests of the United States," said Rothmayer.
A plaque is Crosier's honor has been placed in the Aerospace Engineering Hall of Distinguished Alumni in Howe Hall.
The STRATCOM event, hosted by Iowa State's Department of Political Science, marked the first time the conference has been held outside the state of Nebraska.