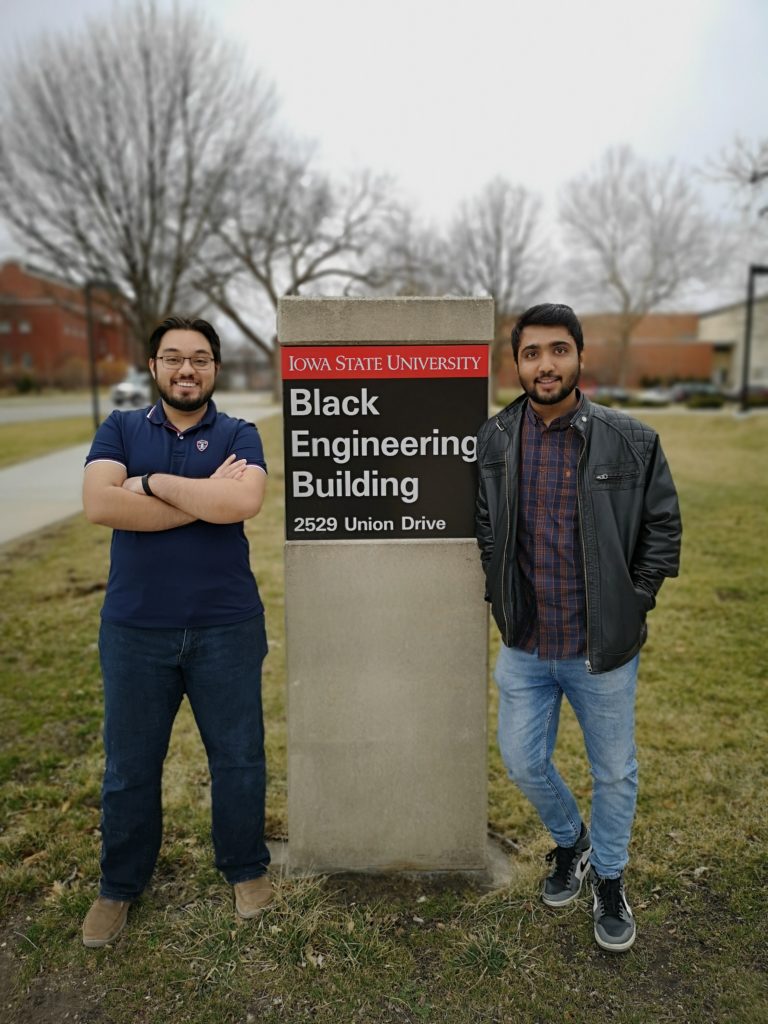 While bringing together faculty and students through research endeavors, Iowa State's Center for Multiphase Flow Research and Education has capitalized on its working relationships with industry partners.
AbbVie which is a global, research and development-based biopharmaceutical company, has become the first company to form a collaboration with CoMFRE. Its researchers are working with CoMFRE to enhance fundamental understanding of granular flows encountered in manufacturing processes.
Nandkishor Nere, senior principal research engineer with AbbVie, first explored opportunities to collaborate with CoMFRE through an informational meeting with Rodney Fox, executive director of CoMFRE and Distinguished Professor of chemical and biological engineering, and Dennis Vigil, professor of chemical and biological engineering. Nandkishor and his colleague Kushal Sinha, AbbVie senior research engineer, teamed up with graduate students working with CoMFRE faculty members in hopes of making headway in the fundamental understanding of complex particulate processes.
"The students were very excited about the complexity and the pharmaceutical company's patient-centric mission," Nandkishor said.
Intersecting interests
Before coming to Iowa State University to launch his Ph.D. studies, Viraj Belekar studied mechanical engineering at the Indian Institute of Technology in Roorkee, India, with a focus on single-phase flows.
Belekar's search for the perfect post-graduate university led him to apply to a number of universities in the United States and Canada. Ultimately, Belekar decided to attend Iowa State after discovering how closely his research interests aligned with the mechanical engineering program.
Today, Belekar is focusing his research on computational fluid dynamics and multiphase flows, and he is advised by Shankar Subramaniam, founding director of CoMFRE and professor of mechanical engineering. His main challenge has been to apply computational models on a large scale by working with AbbVie.
"It is difficult to study the heat and mass transfer between vessel walls and the powder mixtures, so I am currently creating a new model technique that can handle cohesive granular flow," Belekar said.
Belekar's colleague Humair Nadeem, a Ph.D. student in mechanical engineering, advised by Ted Heindel, current CoMFRE director and University Professor of mechanical engineering, is working with Nandkishor and Kushal to study the flow behavior of particles during the mixing process.
"This work aims to provide fundamental knowledge on flow behavior of granular material and identify which parameters are important and how, for improved control over the mixing process," Nadeem said.
Nadeem's overarching goal is to predict the movement and behavior of particles in a mixed system given a set of known initial conditions.
Unique qualities go unignored
For both Nadeem and Belekar, the intersection of their research interests and AbbVie's research needs have made the Iowa State Ph.D. program a perfect fit. The partnership between CoMFRE and AbbVie has been a stepping stone for the students as they look to establish their careers in industry.
"This project was the research that I wanted to do and interacting so closely with an industry gives you so much exposure to real-world problems," Belekar said.
AbbVie works with other universities across the United States, but Nandkishor says their partnership with CoMFRE and Iowa State University is unique in a sense that it provides seamless access to interact with multidisciplinary faculty members with distinct backgrounds.