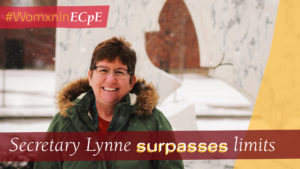 Managing schedules, appointments, finances and more, all while being on call for faculty and staff, is no easy task. Yet Lynne Dubert, from Odgen, Iowa, is one to surpass the limits, accomplishing all of this and more.
Lynne began a new position last October in the Department of Electrical and Computer Engineering (ECpE) at Iowa State University as the department's secretary — and she has been breaking barriers ever since.
Born in Maquoketa, Iowa, she was moving on to different places as soon as she was done with school. She and her high school sweetheart, David, moved to many different towns together and soon after got married.
"I've had a lot of jobs, and I've loved all of them," Lynne said. "But this job allows me to incorporate all of those jobs into one."
Being a part of the staff in ECpE is somewhat of a family tradition for Lynne. Her daughter, Samantha Reetz, has worked with the department for years, and Samantha knew her mom would be a perfect fit as the department secretary.
"I told my mom this position was open and would be a really good fit for her," Samantha said. "She has a lot of humor, organization and is really good at rolling with the punches."
At her previous position, Lynne was a 16-year employee at CDS (Communications Data Service) in Boone, Iowa, and gained a lot of customer service experience there, working with digital magazines, online chats and emailing people.
Lynne has many versatile tasks as the secretary in ECpE. According to Sara Harris, ECpE Liaison and Assistant to the Department Chair and the one who hired Lynne — she still outshines herself every day, going above and beyond the tasks that she is expected to complete.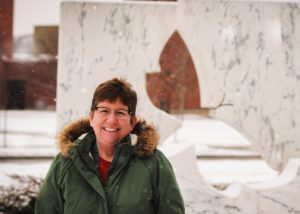 "She's done things I haven't even thought of," Sara said. "She never slacks on anything, always does a great job, and people like her. All the tasks that are on her job description, she hits out of the ballpark. Every time."
Goce Trajcevski, an associate professor in ECpE, is one of the faculty members that Lynne assists with projects and scheduling. Her energy and charisma stand out, he says.
"Lynne is capable of quick learning, adapting and multitasking," Trajcevski said. "She is prompt in following up on whatever matter or task she has."
Lynne's driven work ethic and charismatic energy are contagious. The student workers in the main office are often helping her out with tasks, and they say that Lynne makes everything feel easier. Even though Lynne started a few months ago, the student workers look up to her.
"Lynne has been very welcoming, making me feel very comfortable working here and being the new person," Meghan Kelly, a student worker who recently started in ECpE, said. "She is very easy to talk to; she sets a really good example for others, and whenever we have work to do, we get it done."
Even Juli McCarthy, a senior at Iowa State and a student worker for three years in the department, has noticed Lynne's enthusiasm for every task, no matter how small.
"Lynne is always excited at work. Even when we are doing things like cleaning rooms after seminars, or emptying out the mail room, she always has a positive attitude and is ready to get work done," McCarthy said. "When I see Lynne so excited for every task, it inspires me to want to do the best job that I can."
Why is Lynne so kindhearted and welcoming? Well, while she is naturally already caring and thoughtful, she makes sure people feel at home, wherever they are.
"She was worried when she started that she wouldn't be able to do this job, but I told her that she is really smart and can do it, because she is and she can, and she's been doing a great job," Samantha said. "Faculty will come over and tell me, 'oh, your mom is over there, I love her so much.' She always works hard, no matter what."
Lynne has been committed to providing a place where faculty and students don't have to worry, always prepared to help them with whatever they need.
"I want to make sure I do a good job for my bosses and co-workers," Lynne said. "And I want to be nice to everyone, because what if people are mean to them? That's not cool."
Unique to other people, Lynne is always ready to go, with optimism that is through the roof. Her combination of motivation and inspiration simply make her irreplaceable in ECpE.