Snow blankets campus as Iowa State's Clean Snowmobile Team works in the Advanced Manufacturing Systems Laboratory (AMSL) to engineer the quietest, lowest emission, flex-fuel capable snowmobile.
As they make plans and integrate newly designed parts, the Clean Snowmobile team members' eyes are on the SAE Clean Snowmobile Challenge, an international, six-day competition in Michigan from March 9-14.
The Iowa State Clean Snowmobile Team began competing in 2015. They are an entirely Iowa State student-run and fundraised team. Last year, they proudly took home eighth place at the SAE Clean Snowmobile Challenge.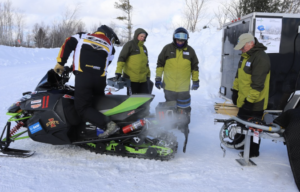 "Each year, we learn more and more and continue to grow and improve," said Ryan Greeley, past Project Director and senior in mechanical engineering. "Our goal is to place in the top five within the next two years and eventually win the competition."
The SAE Clean Snowmobile Challenge began in 2000. It consists of 13 events including testing the snowmobile's endurance, emissions, noise, handling and acceleration. It is judged by industry leaders, including Polaris, Oshkosh, Mercury Marine, Bosch, BorgWarner and Cummins.
The Iowa State Clean Snowmobile Team is currently in the manufacturing and assembly stage of preparing their snowmobile for the 2020 competition. Some of their innovations for this competition season include redesigning a chassis support to reduce the rolling friction caused by the track and introducing a fully standalone engine control unit.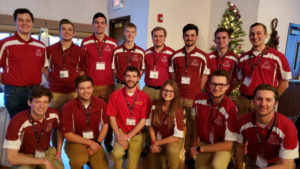 A public display of the snowmobiles and an industry networking night will take place mid-week of the challenge. These events not only allow the public to see the innovation and dedication that goes into building these snowmobiles, but they also enable the students to connect with industry professionals. The networking night has led to numerous team sponsorships and job opportunities for the students competing.
"I picked Clean Snowmobile because, at the time, the team was sponsored by Polaris, and I thought what better way to possibly work for them in the future than to get hands-on experience with their snowmobiles for the next four years," said Greeley. "I am now interning for Polaris this summer, and I would likely not have gotten the position without being involved in SAE and the Clean Snowmobile team."