An undergraduate degree in industrial engineering (IE) can lead to a career in many fields. For one
Iowa State University alumnus, that field happens to be patent and intellectual property law.
"IE seemed like the toughest degree to get and I'm always attracted to a challenge," Chris Proskey thought when he was deciding on his major.
Proskey was born in Long Island, New York and moved to Minneapolis, Minnesota where he attended high school. He decided to attend Iowa State University, knowing he wanted to pursue a degree that would provide him good job prospects, as well as a challenge intellectually.
Though he felt challenged, he said he was always supported by the industrial and manufacturing systems engineering (IMSE) faculty. As a kid, Proskey said he enjoyed building and making things, so he especially enjoyed taking IMSE professor Frank Peters' I E 248 and I E 348 courses which focus on engineering system design and manufacturing processes.
"I loved learning about how things are made. I also loved going on factory tours. As a patent, trademark and intellectual property attorney, it is critical for me to understand how my clients manufacture their products," said Proskey. "I literally use the lessons I learned in IE 248 and IE 348 on a daily basis to understand my clients' products and processes."
Proskey said he also enjoyed I E 361: Statistical Quality Assurance with IMSE university professor Stephen Vardeman.
"Surprisingly I really enjoyed the central premise of this class – which is understanding what the data really is telling you. Professor Vardeman would often ask in class – 'How good are your eyeglasses?' Understanding what the data is telling you is extremely important in engineering as well as in law, not to mention in life in general," Proskey said.
In addition to his coursework, Proskey was also active with his fraternity, Delta Tau Delta, through which he also learned many life lessons.
"College would not have been the same for me if it were not for my fraternity experience," said Proskey. "Living with that many people all in one house taught me so much about how to get along with people, how to go with the flow and roll with the punches."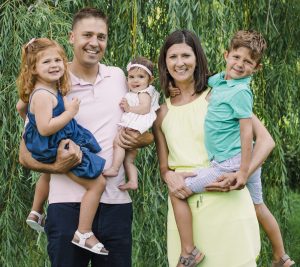 Proskey had an internship with Seagate Technology in Minneapolis, Minnesota, during the summer between his junior and senior year, and because of this experience, he ended up working full-time with Seagate when he completed his B.S. in IE.
Always seeking a challenge, Proskey began taking night classes at the University of Minnesota Carlson School of Management's MBA program while also working full-time for Seagate. He said that Iowa State's IE curriculum provided him skills and knowledge and helped him to succeed in business school.
His work with Seagate involved developing manufacturing systems and processes for hard-drive heads. He even had the opportunity to spend a few weeks in Northern Ireland where he implemented one of his systems at a factory there.
Even with a B.S. and MBA under his belt, Proskey wanted more, so after a few years in Minneapolis, he moved back to Iowa to attend law school at Drake University on a fully-funded scholarship.
"Law school was a big shift for me.  It was rigorous and a lot of reading," said Proskey. "I feel like the analytical skills that I learned at Iowa State helped me evaluate and understand the cases we studied. I very much approached law school as an engineer."
When he completed his J.D. from Drake, Proskey entered the field of patent law and today he is co-chair of the Intellectual Property Practice Group at the Brown Winick Law Firm in Des Moines. He primarily works with technology companies and helps them protect and enforce their intellectual property rights. Proskey also served as General Counsel of QMotion Advanced Shading Systems, where he helped sell the company to a publicly traded company (Legrand).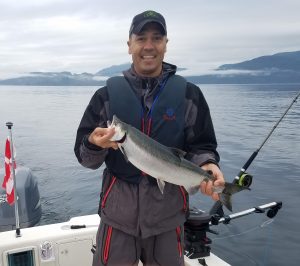 "As an intellectual property attorney I find it interesting that most engineers are paid to develop intellectual property for their companies. However very few engineers have a good understanding of intellectual property rights," said Proskey. "I think every engineer should have a full understanding of patents, trademarks, copyrights, trade secrets and other intellectual property rights and concepts."
When he's not practicing law, Proskey might be playing with his three kids or helping his wife's family on their North Central Iowa farm. He also follows Cyclone athletics and enjoys fishing and hunting. Though actual engineering is now just a relatively small part of what he does, he said having that background has been critical to his professional development.
"To all those students working so hard in their engineering studies, I would encourage you to continue to work hard. It has been my experience that having an engineering degree will serve you well regardless what you choose to do."
Also see: New Griswold Internship offers hands-on experience to shape engineering career paths