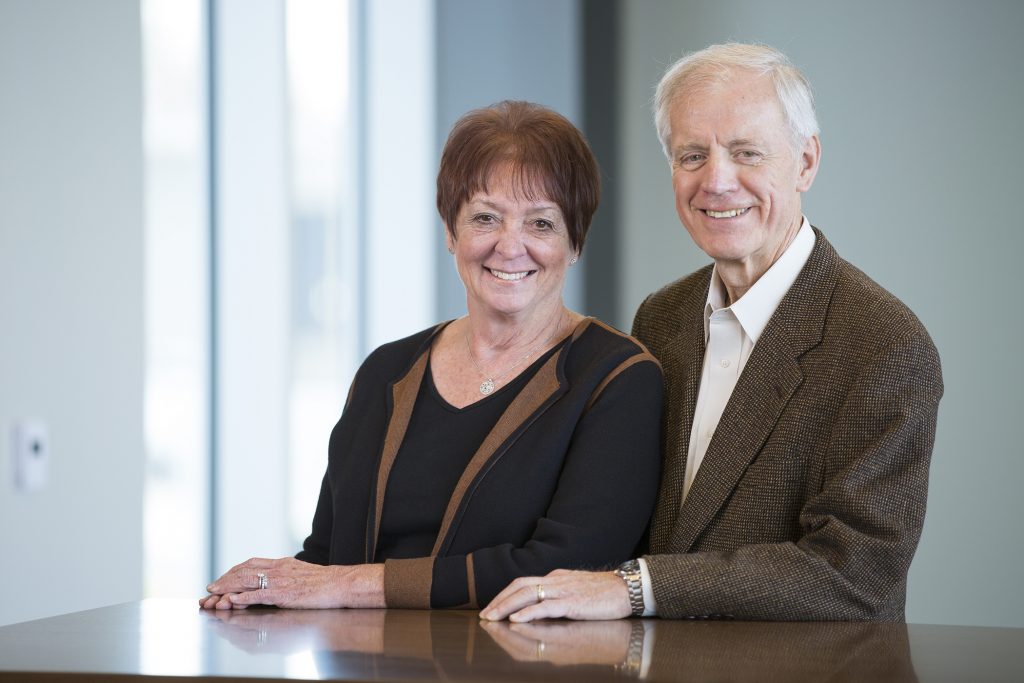 Gary and Mickie Griswold believe deeply that learning comes by doing. That goes for applying engineering knowledge in a laboratory and in trying out professional paths.
"When I was an undergrad at Iowa State, I did research in a chemical engineering laboratory. I found that my experience was instrumental to determining what kind of work I wanted to do in my career," says Gary Griswold (chem engr '67).
For Gary, his time in the lab pointed him to a successful career protecting researchers' intellectual property as an attorney and leader in the field of patent law. For other students, it will point toward careers in research, teaching, or any number of other areas.
The Griswolds are giving a new generation of engineering students the opportunity to learn by doing in the Griswold Undergraduate Research Interns Program. The internship places undergrads into research laboratories, working alongside faculty members and graduate students.
Unique hands-on learning
Griswold Interns are students majoring in chemical engineering who are matched with faculty in the Department of Chemical and Biological Engineering. The Griswolds' gift enables interns to gain valuable experiential learning and build professional skills.
"These interns are treated as important members of the research team. These are paid internships, because the opportunity to work and produce results helps build good values – on top of the opportunity to learn," says Mickie Griswold.
A unique focus on intellectual property further sets the Griswold Internship apart from other internships. Interns attend workshops on intellectual property. These include exposure to the basics of patent, trade secret, trademark and copyright law and practice including training on protecting research and discoveries.
"It's incredibly valuable in research and business to have a basic understanding of intellectual property and how it works," says Gary Griswold. "Not too many undergrads can say they know the principles of intellectual property, but Griswold Interns do."
Immediate impact
So far 17 different students have participated in two 10-member Griswold Internship cohorts. Griswold Interns are building skills, shaping their path and, in some cases, getting immediate experience in intellectual property protection.
Jake Nelson, senior in chemical engineering and member of the inaugural cohort of Griswold Interns, has already contributed to a patent submission for polymer research done by his research group, led by Jean-Philippe Tessonnier, assistant professor of chemical and biological engineering.
"My Griswold Internship has helped a lot to see what research and intellectual property are like. You can't really get that same experience in the classroom," Nelson says.
Nelson credits his Griswold Internship with helping him land a co-op work experience at Archer Daniels Midland, a large food processing company.
"I don't think I'd get this co-op if the Griswold Internship wasn't on my resume," Nelson says. "Thank you to Gary and Mickie for the unique internship opportunity that I learned so much from."
Another Griswold Intern, John Lavey, sophomore in chemical engineering, says his experience "opened his eyes to alternate career paths."
"I wanted to get research experience, so when I saw that opportunity, I jumped on it," Lavey says.
Lavey has since been working on computational fluid dynamics research with Dennis Vigil, professor and associate chair of chemical and biological engineering, who coordinates the Griswold Interns program.
"It's a really good opportunity, that I wouldn't have had otherwise, in applying the things we learn in the classroom," Lavey says.
Andrew Hillier, Reginald R. Baxter Endowed Department Chair in Chemical and Biological Engineering, sees the exceptional value of the Griswold Internship to students – and to Iowa State's College of Engineering as a whole.
"The Griswolds' generous support gives undergrads real-life lab experience, which helps both our students and our faculty members' research efforts," says Hillier. "More than that, the Griswold Internship is key in advancing the college's 'intellectual property culture' – a commitment to transferring the innovations we create to help society."