As the largest major on campus, there are as many inspirations for studying mechanical engineering (ME) as there are mechanical engineering students.
Sophomore ME student Nick Sandeen, peer mentor for MELTS, said "I had the opportunity to restore my grandpa's tractor, and that inspired me to become a mechanical engineer."
The Mechanical Engineering Learning Teams (MELTS) learning community has a goal of bringing mechanical engineering students together to create a social support network with ME peers.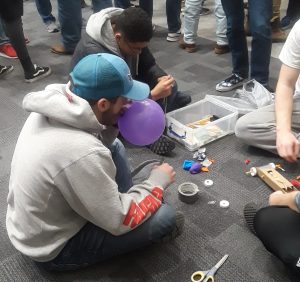 MELTS hosts hands-on activities and events for their students each year, including a design Olympics event that encourages collaboration, competition and communication. The design competition helps establish a sense of community within ME while improving students' problem solving skills, teamwork skills and ability to network and connect with other students.
MELTS has organized a wide variety of design challenges over the years, including creating rubber band cars, Rube Goldberg machines, duct tape backpacks and self-propelled catapults.
This year each MELTS section competed as a "company" against the other 15 sections. Each company was split into four groups, each with their own project: a balsawood bridge group, a ping pong ball catapult group, a rubber band car group and a mini cardboard boat group.
Each group could earn points for design, cost efficiency and performance. The company that earned the most points across all groups was announced the winner of the competition.
In addition to the design Olympics event, MELTS students and peer mentors also socialize in and outside of the classroom. Ash Corpuz, a mechanical engineering freshman in peer mentor Martha Hodapp's seminar section, cites his favorite memory as going ice skating with his ME 190 classmates.
"The more people you know and connect with, the more you'll be able to dip your toes into," said Corpuz.
Iowa State University offers over 90 learning communities throughout each college, and over 86% of first-year students participate. Since 1995, Iowa State has served over 80,000 students in learning communities.
The College of Engineering offers nearly 20 different learning communities to meet the individual needs of incoming, transfer and current engineering students in all majors.