2019 CoMFRE Symposium and Member Meeting
The 2019 CoMFRE Symposium and Member Meeting was held Oct. 28–29 in Ames.
Industry members met in a closed meeting on Monday afternoon to receive updates on shared research and meet with CoMFRE faculty and students to discuss future research and goals for the center.
The remainder of the meeting was open to invited guests as well as CoMFRE members. The meeting began with a student poster contest, reception and dinner. In addition to presentations and a poster session, the meeting provided opportunities for networking and interaction among industry representatives, faculty, graduate students and postdocs.
Bill Olbricht, Iver Anderson, and Baskar Ganapathysubramanian and Soumik Sarkar were featured as keynote speakers at the meeting, presenting on multiphase flow research at the National Science Foundation, powder sprays for additive manufacturing, and artificial intelligence and machine learning for engineering design and simulations, respectively.
Student poster competition
The event included a student poster contest, in which students presented posters on their collaborative research. Posters were judged by a five-member team including Raj Venuturumilli (BP), Kushal Sinha (AbbVie), Kim Moss (Department of Art and Visual Culture), Howard Shapiro (Department of Mechanical Engineering) and Mirka Deza (Department of Mechanical Engineering).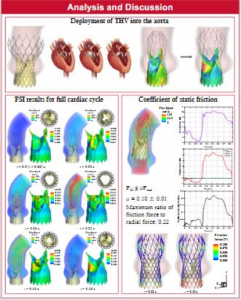 Heather M. Muchowski, Manoj R. Rajanna, Michael C.H. Wu, Emily L. Johnson and Ming-Chen Hsu won first place and $300 with their poster titled "Immersogeometric fluid-structure interaction modeling and simulation of transcatheter aortic valve replacement." This research poster presented transcatheter aortic valve replacement as an alternative to surgical treatment of valvular heart disease, supporting a minimally invasive, lower-risk treatment option for high surgical risk patients.
Humair Nadeem and Theodore J. Heindel were awarded second place and $200 for their poster titled "X-ray imaging for particle-particle mixing," in which X-ray techniques were applied to particle-particle mixing, a process that can be found in construction, cosmetics, food processing and pharmaceutical industries.
Cem Kolbakir, Haiyang Hu, Yang Lui and Hui Hu were awarded third place and $100 for their poster titled "Experimental investigations on plasma-based anti-/de-icing systems for aircraft icing mitigation." The formation of ice on aircraft surfaces is potentially dangerous, and this research looked at reducing ice buildup on aircraft surfaces through investigating thermodynamic characteristics of dielectric barrier discharge plasma actuators.
Faculty presentations
Seventeen CoMFRE-affiliated faculty presented their research throughout the event.
Associate professor of mechanical engineering Ming-Chen Hsu demonstrated several animated simulations of heart valves and the movement of fluid in "Heart Valve Fluid–Structure Interaction," presented on his behalf by assistant professor of mechanical engineering Adarsh Krishnamurthy.
Assistant professor of mechanical engineering Jaime Juarez presented "Acoustic Field Assembly," discussing sound waves, resonance, distortion and the creation of materials using sound.
Martin C. Jischke Professor in the Department of Aerospace Engineering Hui Hu's "Overview of Recent Researches on Icing Physics and Anti-/De-icing Strategies at Iowa State University" aimed to improve prevention of different types of ice formation on surfaces including aircrafts, wind turbines, automobiles and powerline cables, among others.
Collaboration and next steps
"I received a lot of positive comments by all in attendance, and the short faculty presentations were really well-received by industry," said director of CoMFRE Ted Heindel, University Professor and Bergles Professor of Thermal Science in the Department of Mechanical Engineering.
"There were several faculty–industry discussions after the meeting. Our goal is that these discussions lead to collaborations between CoMFRE-affiliated faculty and the industry participant."