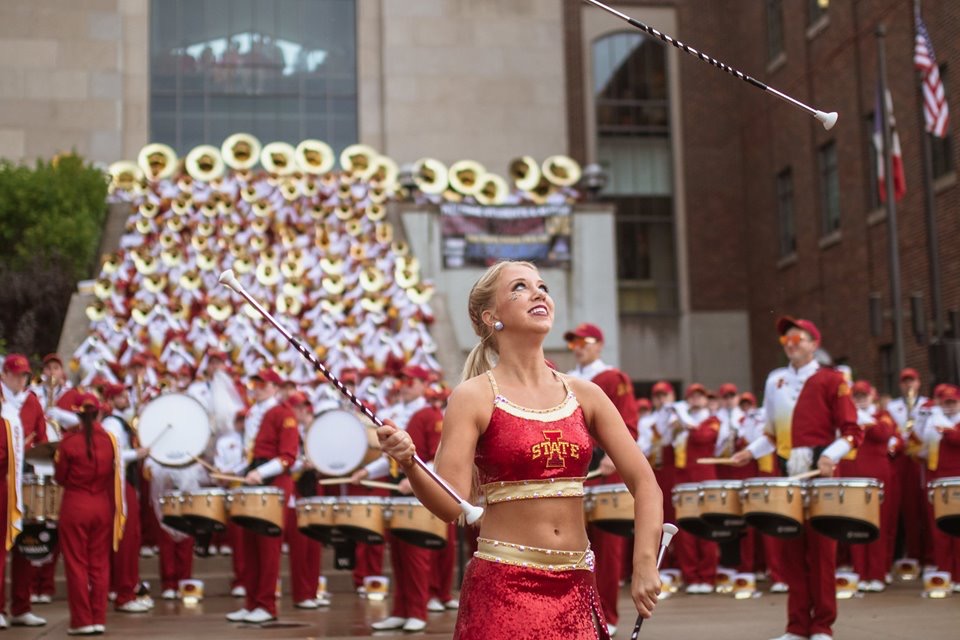 Imagine having roughly 120,000 eyes on you as you perform during halftime at a football game. This is almost a weekly occurrence for industrial engineering sophomore Alexis Ashton during the fall.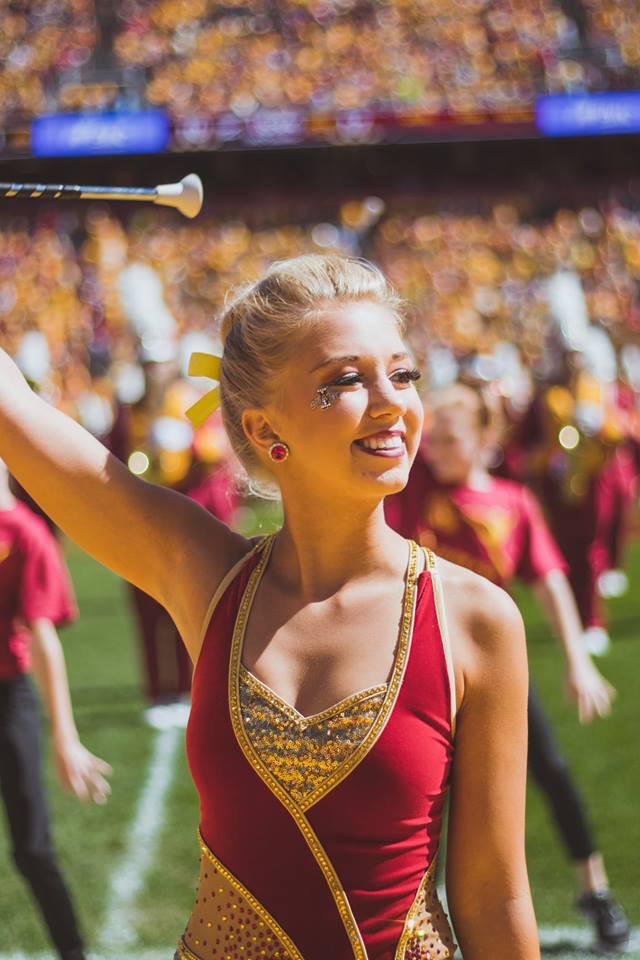 Ashton is one of the Feature Twirlers for the Iowa State University Cyclone Football 'Varsity' Marching Band, which performs at all Cyclone home football games. She grew up in Solon, Iowa, and first started twirling when she was six years old. Growing up she also danced, ran cross country and participated in the Miss Iowa Scholarship Program.
Despite having the University of Iowa practically in her backyard, she always wanted to be an engineer and felt that Iowa State University better offered what she wanted, particularly when she discovered the professional opportunities within the field of industrial engineering (IE).
"What solidified my decision to major in industrial engineering was when [industrial and manufacturing systems engineering associate teaching professor] Leslie Potter said that industrial engineers improve processes to help people. It was then I decided I wanted to be part of a team that helps a process become more efficient and helpful," Ashton said, adding that Potter has been one of her most influential faculty members during her time at Iowa State.
During a typical game week, Ashton spends roughly 10 hours rehearsing her routine for that week's show. On game days, she arrives at the field five to six hours before kickoff, meaning that she's there between 5 and 6 for 11 a.m. games.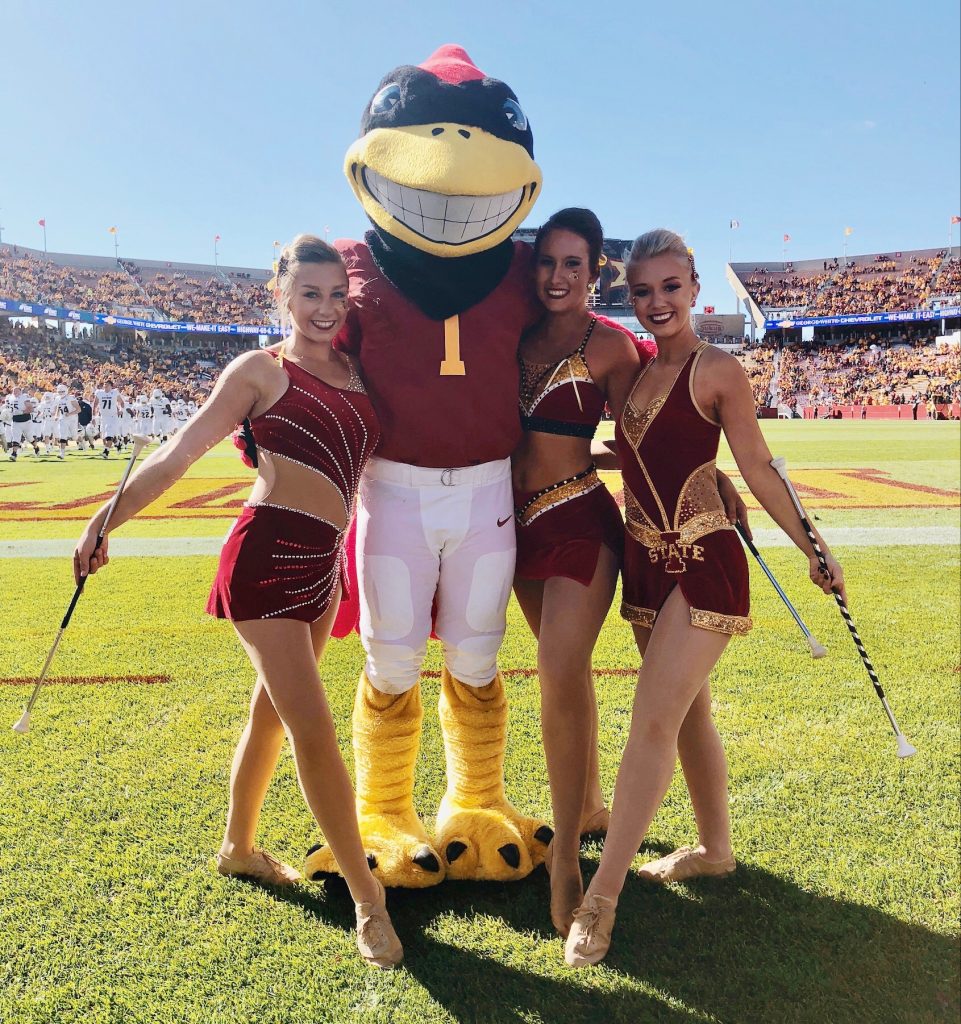 She and the marching band start the day off with a practice before welcoming the football players to the stadium during the spirit walk. They then get a short break to eat before performing the step show outside of the Alumni Center. Then, they finally march over to Jack Trice Stadium for the game, where they perform during pre-game and halftime. While the pre-game performance generally remains the same, the halftime show is different each week. In the past, they've performed music from classic artists like Tchaikovsky (Russian, Romantic era composer) and Glenn Miller (Iowa-born big band leader) to contemporary pop acts such as Billie Eilish and Lizzo.
She described the band as a family and said she's become particularly close with the other two Feature Twirlers: Rachel Lasota and Maren McGuire. Despite the stress of performing in front of roughly 60,000 fans, Ashton said she doesn't let her nerves get the best of her.
"I rarely get nervous on game days. Performing at football games is one of my favorite types of performances," she said. "It's one of the best feelings being able to perform for that many people."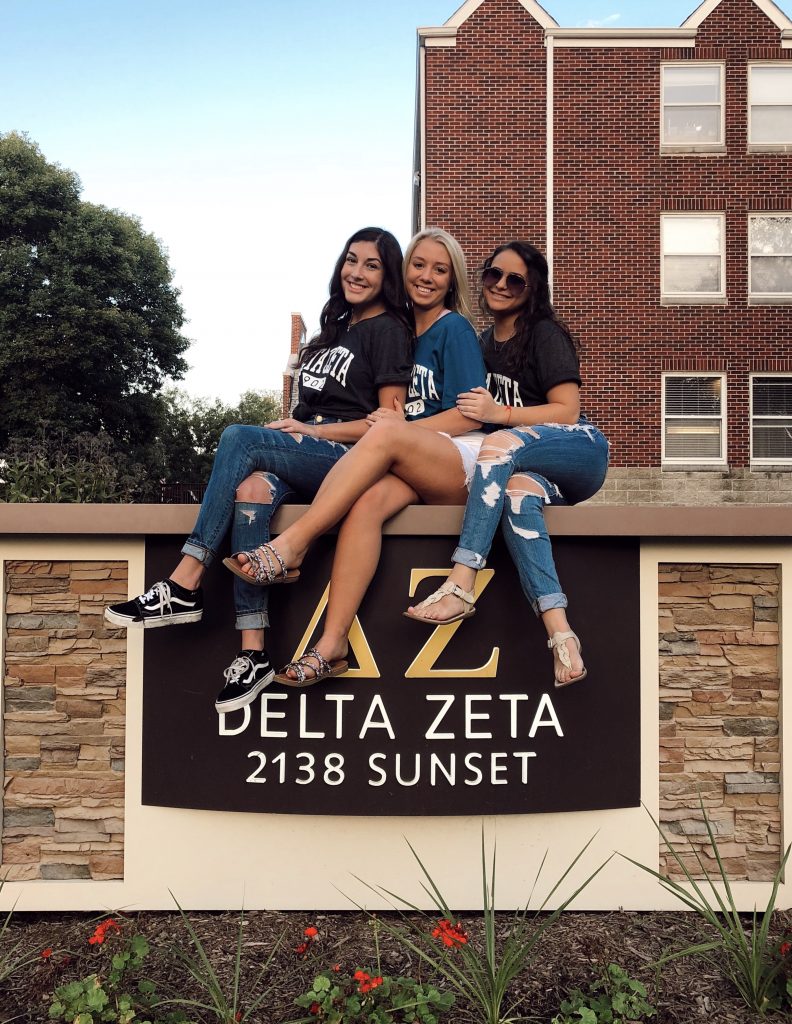 In addition to the IE curriculum and her twirling responsibilities, Ashton also participates in Dance Marathon and is a member of Delta Zeta sorority. Part of her work with her sorority includes philanthropic efforts, such as providing aid for the speech and hearing impaired, and also helping to organize various events with other sororities and fraternities on campus. She said that the workload is a bit overwhelming at times, but she always manages to persevere.
"Some effective methods I find that work for me is to never procrastinate. I start homework and projects as soon as they are assigned. I also use every minute of my free time to get my work done. I rarely have free time, but when I do I use it wisely."
Ashton plans to complete her studies in spring 2022. She said she hopes to secure a co-op or internship in the near future that might eventually lead to a full-time career.