A group of Department of Chemical and Biological Engineering (CBE) undergraduates are headed for Orlando, Florida to represent Iowa State – and you have the chance to help them do so.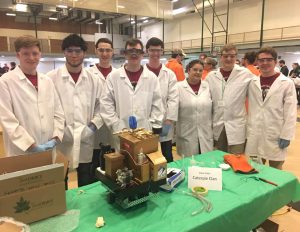 The American Institute of Chemical Engineers (AIChE) is a highly regarded national organization with a large network of student chapters. The 2019 AIChE Annual Student Conference is in Orlando November 8-11. It will bring together chemical engineers and chemical engineering students from around the nation for education, competitions and networking. Significant costs are involved with attending the event, including air fare for the Iowa State group due to the significant travel distance.
The chapter has established a donation page through the Iowa State Foundation where contributions can be made. The group has set a goal of $2,000, but is hopeful they will surpass that amount.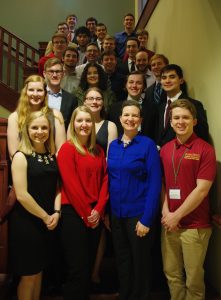 "Normally our group of students drive to the AIChE annual conference, but with the great distance involved this year traveling to Orlando, Florida, we need to fly, and this creates a lot of extra cost that our students might have to help bear," said CBE's AIChE faculty sponsor Stephanie Loveland. "So we've established this way of allowing people to step up and help make sure everyone gets to take part in this excellent experience."
Part of that experience for the Iowa State students will be the Chem-E-Car national finals competition. Iowa State's "Caterpie Clan" team qualified for the national battle by placing third in a regional competition this past spring.
The Chem-E-Car competition features student-designed miniature vehicles that are both powered and stopped by chemical reactions. The cars compete one at a time on a designated course, and the distance from the finish line to where the car stops is measured and recorded. This is the fourth consecutive year Iowa State AIChE has qualified for the national Chem-E-Car competition.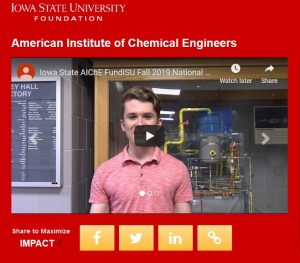 Donors to the campaign can choose from the pre-selected amounts of $5, $20, $50 or $100, or may designate any amount of their choosing. To donate, click here. The deadline is October 25 at 9:00 a.m.