College of Engineering researchers revealed research and searched for interdisciplinary collaborators at the third-annual ISU Research Day. Here's what some of the many Cyclone Engineers at the event had to say the type of collaborators they are seeking – and the value of working with those across traditional discipline boundaries.
Marilyn McNamara, a graduate student in mechanical engineering, presented her research that revolves around a microfluidic technique that has been applied to biomedical areas.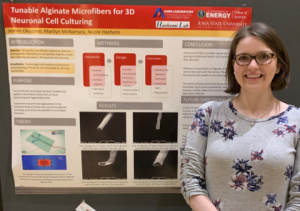 McNamara is searching for collaborators who can help with scaffolds in 3-D cell culture.
"Collaborators are needed for research to succeed. Working with others gives us the ability to brainstorm different ideas," said McNamara.
Michael Ward, a graduate student in civil, construction and environmental engineering, also presented his research, titled, "A Holistic Approach to Shelter Design in Displacement." Ward's research aims at improving the design of refugee camps. Ward seeks collaborators with expertise in statistics.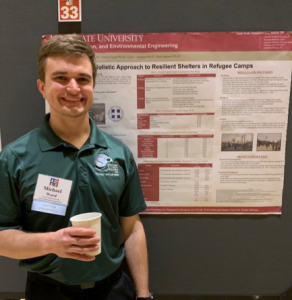 "The most valuable thing about working with people in other areas is the broadening of horizons. You really need the different aspects that others have to offer for success in your research," said Ward.
Xiaojing Zhong, a graduate student in electrical and computer engineering, presented her research titled, "Investigating the Effects of Coil Designs and Anatomical Variations in Cerebellar TMS." Zhong's research focuses on the neurons in the brain. "Working with others brings out different viewpoints, aspects and expertise," said Zhong.