Four College of Engineering staff were honored with Professional and Scientific Council CYtation Awards for professional excellence and outstanding contributions to Iowa State University.
Jason Follett, academic adviser in electrical and computer engineering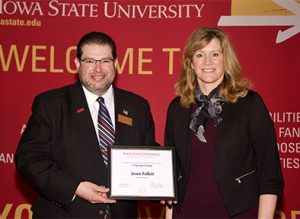 "Jason is an articulate, organized, and effective leader. During the Spring 2017 semester, due to a colleague going on leave, Jason was the only full-time Academic Adviser for over 600 undergraduates. He worked diligently to meet their needs, including but not limited to registration, academic status, change of major, adding a minor, personal issues, and internships. Jason also supervised the Software Engineering Learning Community and had weekly meetings with the peer mentors. As a representative of the Software Engineering program, Jason meets prospective students and attends recruitment events. The college's Office of Admissions and the Software Engineering Program have received many positive comments about the work Jason does with prospective students and their families. As stated by one colleague, 'Jason is a warm, funny individual whom you enjoy being around and a professional that you hope to have on your team.' Additionally, Jason has served multiple terms on P&S Council and is a current member of Council. He is also working with fellow Engineering councilors and the Dean's Office on the formation of an Engineering P&S Council going above and beyond to serve his fellow P&S Employees."
Jackie Kester, academic adviser in aerospace engineering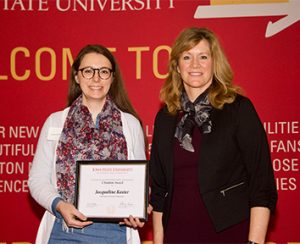 "It has been shown through her work in these past few years that Jackie loves working with the students she advises and being able to build relationships that make an impact within her department.  Jackie has taken on heavy advising loads and responsibilities and still makes impactful connections with her students. Students she works with have reported positive feedback about how Jackie has been the perfect adviser for them throughout their educational journey at Iowa State University. On top of her advising responsibilities, Jackie also coordinates the aerospace learning community, teaches ENGR 101, and has implemented initiatives for females and students of color in the aerospace department. It is through Jackie's dedication and willingness to go above and beyond that she is able to make an impact on the aerospace engineering department and the students she advises."
Melissa Skinner, student services specialist, and Jane Stowe, secretary, both in Engineering Student Services, as part of the OneApp Implementation Team.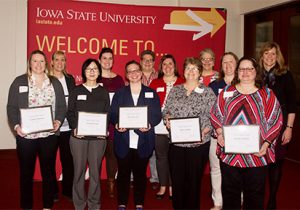 "The OneApp Implementation Team was formed after the October 2017 purchase of a third-party scholarship solution from AcademicWorks. The goal of this purchase was to simplify the scholarship application process for students, streamline the scholarship selection process for colleges/departments/other university scholarship providers, improve data security, and increase stewardship of the generous gifts given to Iowa State University as scholarships. The ISU OneApp Implementation team was tasked with the campus-wide roll-out of this software, and they did so with great success and efficiency. OneApp opened for most colleges/departments/units on October 1, 2018. Roughly two months later the team experienced over 59,000 individual user sessions, and nearly 330,000 page views. The deployment of OneApp is having powerful and tangible impacts across campus.  Both potential and currently enrolled students now have a single application process to apply for scholarships. Colleges, departments, and units have the ability for both on- and off-campus personnel to review and rate scholarship recipients through a simple process. The ISU Foundation now has an easier mechanism to confirm that funds are being awarded to qualified candidates and meeting the intent of our donors.  Furthermore, individual student data is now safely stored behind layers of security as opposed to residing in spreadsheets on individual reviewers' laptops or on printouts. Truly, this effort has made an impact on the entire campus and will continue to offer benefits for years to come. "
Award citations courtesy of the Iowa State University's Professional and Scientific Council.