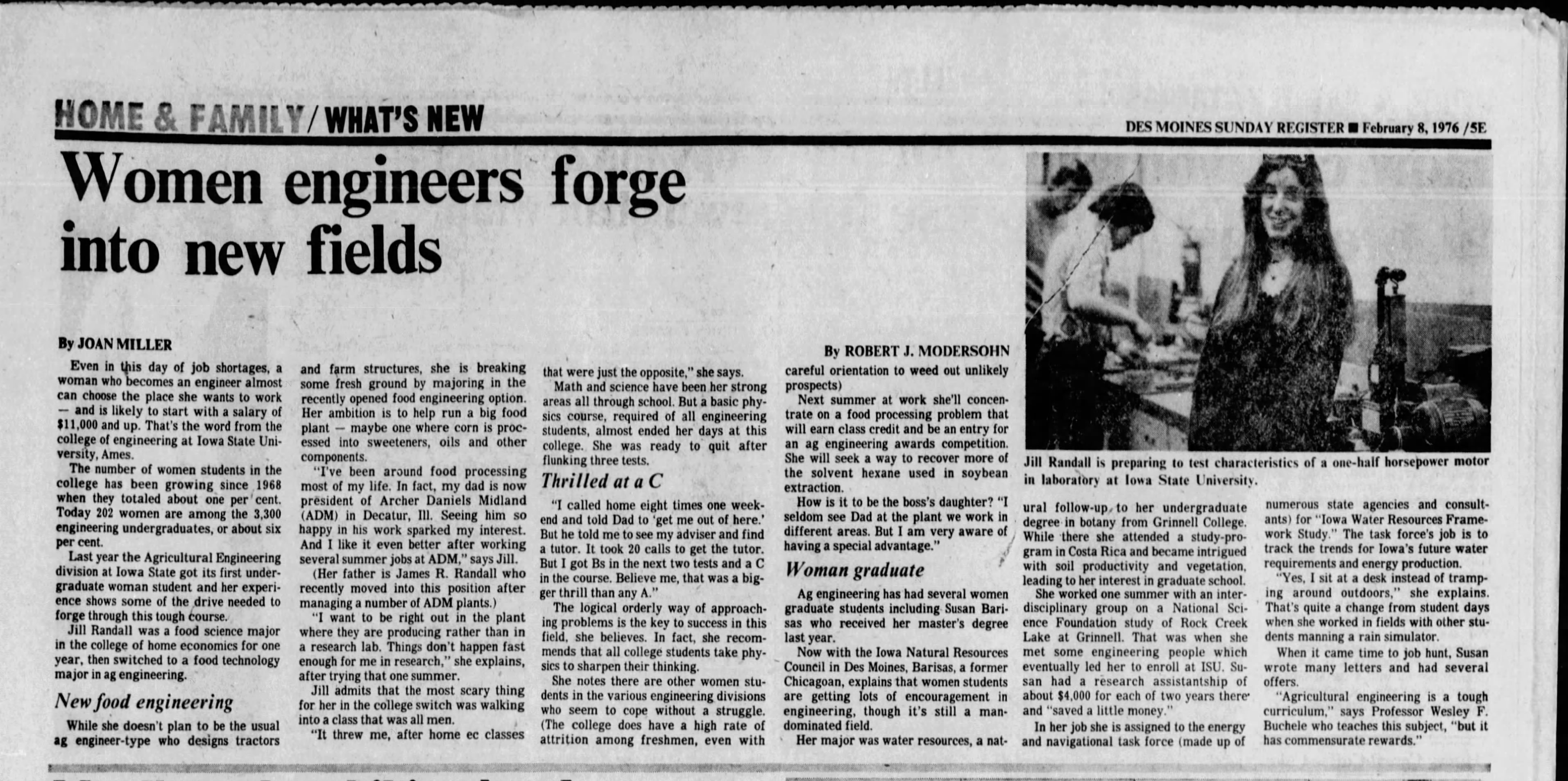 Jill Fratini forged a unique path as an engineer and a working mother 
The face of Jill (Randall) Fratini smiles up at the reader of the Feb. 8, 1976, edition of the Des Moines Sunday Register. Fratini ('78 B.S. agricultural and biosystems engineering) is prepping to test characteristics of a one-half horsepower motor in Davidson Hall, the former home of Iowa State University's (ISU) Agricultural and Biosystems Engineering Department.
Fratini is the first woman to graduate from ISU with an undergraduate degree in agricultural and biosystems engineering.
The article, "Women engineers forge into new fields," written by Joan Miller and Robert J. Modersohn, takes the reader to a time when the number of female students in Iowa State's engineering programs was just beginning to grow. The article states that 202 women were enrolled in undergraduate engineering. Women engineers like Fratini made up about six percent of the college's 3,300 engineering undergraduates.
"All the guys in my major knew my name," Fratini said. "Being the only woman in a group tends to make you stick out."
Sticking out wasn't a bad thing — at least, not for Fratini. If anything, being the first offered her an opportunity to stretch her abilities.
"I just had such a good time learning," she said. "None of my classmates were condescending, none of them were arrogant. I think they really enjoyed having someone different in the classroom."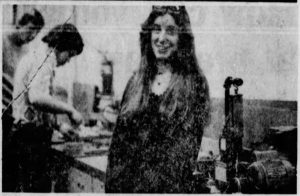 That doesn't mean everything was a breeze for the first woman ABE undergrad. Fratini remembers one instance when she sought help from a physics professor.
"He leaned back in his chair and said to me, 'Some women just are not destined for this class. They're just not smart enough to handle it,'" Fratini said. "I told him, 'I'm not one of those women.' I turned on my heels, and I walked out."
Since there weren't many female students in the courses she was taking, Fratini made friends with her male classmates. Those classmates came to understand better the struggles of women engineers through their experiences with Fratini. For example, a simple welding course meant a load of equipment alterations.
"My gloves were too big, my helmet was too big," Fratini said. "Every time I would tip my head forward, the helmet would fall off. So the guys and I stuffed shop towels inside the helmet to make it stay on my head."
A native Midwesterner, Fratini grew up in Minneapolis, Minnesota, before moving to Decatur, Illinois. After graduating from ISU, she returned to Decatur to work at Archer Daniels Midland (ADM). It was during her time at ADM that doctors diagnosed Fratini with multiple sclerosis (MS). Fratini went from working full days to needing half-day work, which was not readily available for women engineers.
One of Fratini's favorite pastimes is hiking and traveling with her husband, Tony (middle photo, right side), and their two miniature Schnauzers.
Courtesy Fratini
---
However, Fratini found other ways to use her problem-solving skills. She worked as an accountant and built her own timber frame house. She raised three daughters. The eldest, Kimberly Cavill (2003 B.S. English), also graduated from Iowa State. Even today, Fratini sees her daughters face many of the same issues she herself faced.
"I always felt that I had to study harder and work harder just to catch up," she said. "I hope it comes to pass someday that women are taken as seriously in the workforce as men, and they don't have to work harder to be treated equally."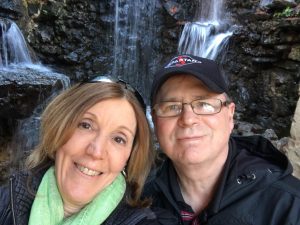 Fratini is now 62 years old. She is retired and spends her winters in the Southwest with her husband, Tony ('86 B.S. mechanical engineering). Every day, she completes weight training in a constant fight against MS.
"Engineering teaches you how to think and how to problem solve, and you can apply that to anything that you do in life," she said.
Though women still face career challenges in science, technology, engineering and math, Fratini believes each challenge is its own reward.
"I think that any woman who wants to pursue a STEM major must have an inherent drive," she said. "Not to show the world, but to show herself that she can do it."
---
For more news and alumni updates, follow ISU ABE on social media, including Facebook @isuabe, Twitter @isu_abe, Instagram @isu_abe and LinkedIn (search "Iowa State University Department of Agricultural and Biosystems Engineering Alumni and Friends").