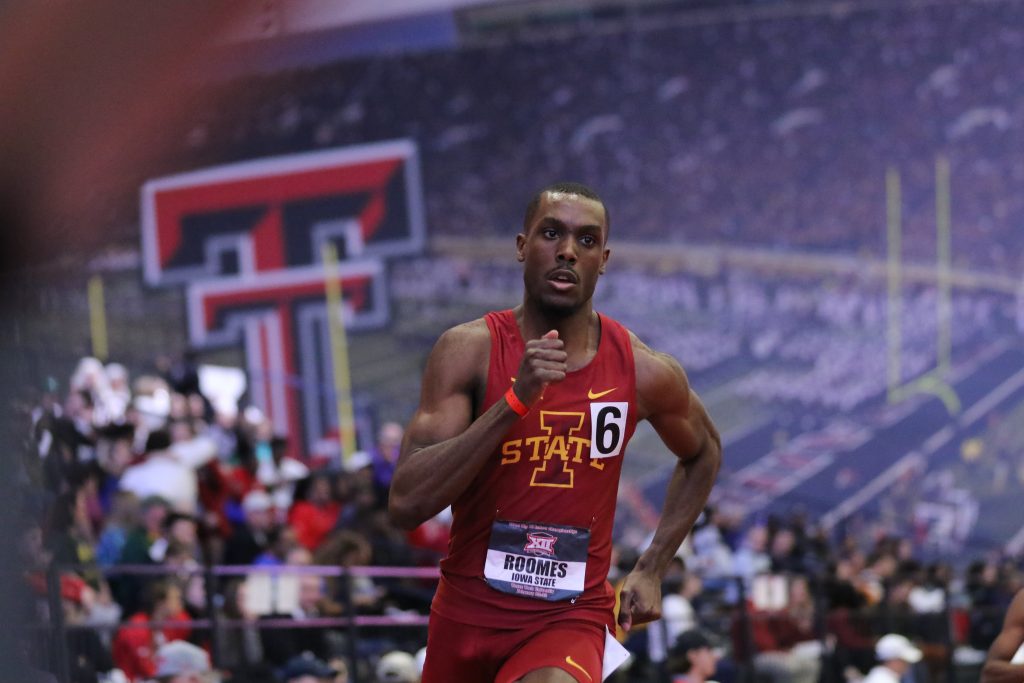 An industrial engineering student-athlete set both a school record and collegiate record at the Big 12 Men's Indoor Track & Field Championships last weekend in Lubbock, Texas.
Roshon Roomes, a junior in IE, took first-place in the 600-yard run with a time of 1:07.67. His time beat the previous school record of 1:07.73, set by Frankie Atwater in 1991. His time also bested the previous NCAA record of 1:08.16 set by Texas Tech's Vincent Crisp in 2018. (The reason the previous school record was faster than the previous NCAA record was because the previous school record was set on an oversized [300 meter] as opposed to standard track [200 meter].)
"I was ecstatic because I was just trying to get the win but to come away with a collegiate record as well I couldn't ask for a better race," Roomes said.
Roomes, who came to Iowa State via Woodbury, Minnesota, helped the Cyclones to a second-place team finish at the meet, marking Iowa State's best finish at an indoor conference track meet since 1997 when the Cyclones also took runner-up. Roomes's finish also marks the seventh conference title Iowa State has won in the 600-yard run in school history.
Roomes and the Cyclones will now move on to the 2019 NCAA Indoor Track & Field Championships which will take place in Birmingham, Alabama on March 8 and 9. At nationals, he will compete in the distance medley relay with teammates Festus Lagat, Eric Fogltanz, and Dan Curts.
"Right now I am trying to recover from the weekend because I did a lot of racing," said Roomes. "So I am doing recovery workouts and not pushing my body too much but once I recover I will continue my in-season workouts for the big dance next week."