FundISU is a new way for Cyclone Engineering alumni and friends to support the innovative work and research being done at Iowa State University. Nearly four years ago the Iowa State University Foundation implemented FundISU – a crowdfunding platform helps Iowa State University community members raise money to support projects that advance innovation, teaching and learning at the university and promote Iowa State's mission to create, share, and apply knowledge to make Iowa and the world a better place.
How does FundISU work? University teams (faculty, staff and students) apply to use the platform. Once a project is approved by the appropriate campus administrators, the teams are given access to set up their own pages, cultivate supporters and publicize their campaigns. TheFoundation provides the web space and tracks and manages the gifts.
So far, generous donors have supported several Cyclone Engineering hands-on learning projects.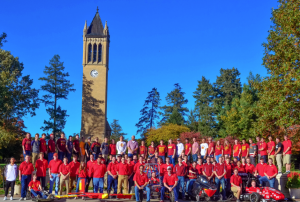 SAE International raised a total of $5,100 to purchase a new trailer that helps them transport the vehicles they design, build and compete with – and use for youth STEM educational outreach.
"The support we received through FundISU was fantastic and really helped SAE reach its goal. In the past 8 years, SAE International has grown from 2 teams to 5 teams, and the number of events we attend each year has nearly tripled from 6 to 15 competitions, " said Jameson Gavac, a senior in mechanical engineering and the SAE Baja technical consultant. ²We spend a lot of the year visiting high school and middle school students in Iowa to get them excited about STEM. Our old trailer was starting to get worn out and needed frequent work, which cost the organization a lot of money. Some teams could not compete because the trailer broke down on the way to a competition. By calling on alumni, family and friends for help raising money we were able to purchase a new trailer."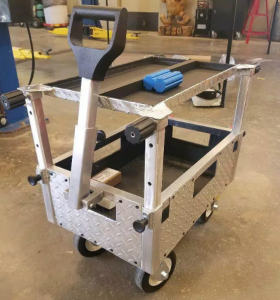 The Mechanical Engineering 415 Capstone Project raised a total of $2,565. The team used their funds to develop a product for an individual who is a wheelchair user. The donations made helped the team deliver a fully capable durable, and sustainable product.
The Cyclone Rocketry Club is currently live on the FundISU site until Feb. 22 at 9:00 a.m. Cyclone Rocketry is entering a more challenging division at the 2019 Spaceport America Cup. The club will attempt to become the first organization in Iowa State history to manufacture its own solid rocket motor and fly to an apogee of 30,000 feet. The funds raised from FundISU will be put toward the building of this rocket.
You can be part of making a difference! Please visit www.fundisu.com and consider supporting engineering clubs and organizations on the FundISU site.