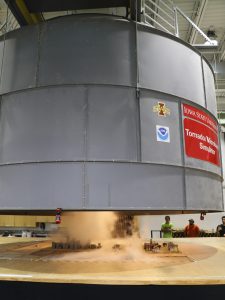 No stranger to news coverage, the Department of Aerospace Engineering's tornado simulator in Howe Hall has once again achieved worldwide attention, landing in first place on a list of the most important natural disaster simulators in the United States.
Produced by AccuWeather, the list looks at university facilities that play a key role in helping researchers and other officials in planning for the effects of natural disasters, which threaten lives and rack up billions of dollars in damage in the U.S. each year.
Planned, constructed and managed under the leadership of Department of Aerospace Engineering Professor Partha Sarkar, the tornado simulator was launched in 2004 and is part of the department's Wind Simulation and Testing (WiST) Laboratory, which advances research in straight-line and rotating winds, aerodynamic testing, flow visualization and more.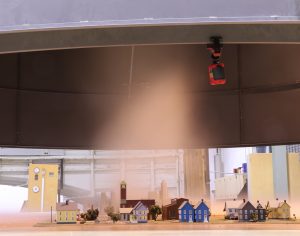 The tornado simulator creates miniature tornadoes that move across a structure or a building to allow study of how different parameters of a tornado and different building shapes and geometries and even topography and terrain of land over which a tornado approaches a building can impact the damage a tornado causes. Sarkar designed the simulator to create model tornadoes which are similar in flow structure to tornadoes of up to EF3 intensity with maximum winds of 165 miles per hour on the Enhanced Fujita scale (which measures the intensity of tornadoes from EF1 to EF5) because most tornadoes do not exceed a force of EF3. Therefore, Sarkar advocates that the design of structures should be planned to withstand an EF3 tornado. In discussing ISU's tornado simulator, Sarkar is quoted in the story as saying, "We try to quantify the uncertainties in estimating tornado winds and corresponding structural damage."
A 2015 feature story about the tornado simulator in Iowa State's VISIONS magazine can be found here.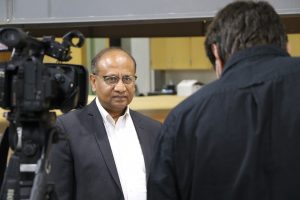 A Sarkar-Iowa State connection also exists with the number two facility on the AccuWeather list, the Wall of Wind Experimental Facility of Florida International University. It allows for the study of hurricane-force winds on civil infrastructure, and was designed by a former doctoral student of Sarkar, Arindam Gan Chowdhury, who graduated with a Ph.D. in engineering mechanics in 2004.
The AccuWeather story, with an accompanying video that includes Iowa State's tornado simulator, is available here. A Yahoo News version of the story is available here.