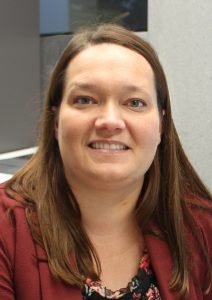 The Department of Chemical and Biological Engineering welcomes Jill Rollinger to the staff as Program Assistant for Business & Data Analytics. She will support many business activities in the department, including procurement; data collection, analysis and reporting; personnel/human resource activities and more.
Jill is an Iowa State alumna, having received a B.A. in communication studies in 2008. She is currently working toward a master's degree in organization development. Prior to coming to CBE she held a position performing similar duties in ISU's Ivy College of Business.
Jill is originally from Brunsville, Iowa, near Le Mars. In her spare time she enjoys working on her house and spending time with her dog, a black lab named Lulu.