Iowa State graduate assistant Quin Schultz was recently selected to participate in the European Institute of Innovation and Technology (EIT) Food Summer School. At the summer school, 40 master's students, doctoral candidates, postdoctoral scholars and industrial professionals from various academic disciplines, came together to bring their ideas for a sustainable food supply chain to life. The summer school was hosted by Queen's University Belfast with help from the Technical University of Munich and the University of Cambridge.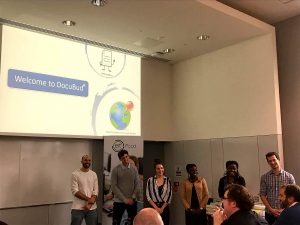 Over a six day period, the participants worked in teams to identify problems, prototype viable solutions and pitch their results in front of a panel of experts. Schultz's team explored a solution to enhance traceability in small- to medium-sized food processing facilities (SMEs).
"The team identified the importance of being able to integrate paper-based quality control measures into a digital format, for full supply chain traceability of food products," Schultz said. "We developed a model software application that runs on a tablet, which allows for SMEs to use their current quality control documents and processes."
Participants learned the importance of leadership for innovation and entrepreneurship in the food sector while attending workshops throughout the week. The program concluded with a structured pitch in front of a panel of entrepreneurs, industry partners, investors and support providers who gave feedback on the next steps of commercially viable and environmentally sustainable ideas.
"The combination of start-up entrepreneurs, professors, industry professionals and postgraduate students from all over the world created an extraordinary knowledge hub," Schultz said of the overall experience. "Learning how to create a value proposition and product vision and being able to pitch it to potential investors was an experience like no other."