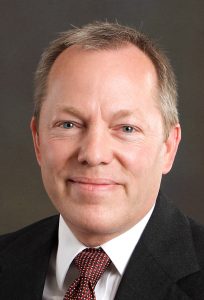 As a member and chair of the Department of Chemical and Biological Engineering's (CBE) Advisory Council, John Kaiser was always a very popular visitor whenever he'd come to Sweeney Hall. As a longtime employee of Mars Chocolate, Kaiser, who some nicknamed "The Candy Man," would bring samples of his employer's products to hand out to faculty and staff.
Beginning with the fall 2018 semester, Kaiser, who has now retired from Mars Wrigley Confectionery, will be spending a lot more time in Sweeney Hall, as a senior lecturer in CBE; and the department's newest faculty member will be sharing a lot more than chocolate in his new role.
"I will be bringing my many years of industry experience into the classroom in CBE," says Kaiser. "I will be stressing important aspects of working in the field to students – things like teamwork, and exposing them to industry concerns, especially close to home in Iowa and the Midwest.
"In my time with the CBE Advisory Council, where we would get input from chemical engineering students, I would hear feedback like 'What does a chemical engineer really do? I am exposed to all this great classroom activity, but what can I actually expect to be doing when I graduate and actually start working?' I will be drawing on my experience in the field and also working hard for more industry engagement in our students' education to help answer those questions."
Kaiser first came to the ISU Department of Chemical Engineering for a master's degree, which he received in 1987. Following his graduation, he went to work for Kraft, Inc., as a research engineer – a job he got through an ISU College of Engineering career fair. "Working for Kraft gave me an excellent foundation of how chemical engineers work in the food industry," he says.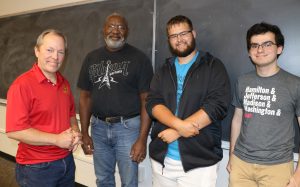 Employment with Mars followed in 1989, which led to a nearly 30-year tenure in research and development. He led a multicultural global team responsible for managing all the company's new capacity projects, creating best practices and developing the next generation of cocoa and chocolate processing. He worked in six continents and in more than 30 countries.
With Mars he was involved with many processes and team effort required to develop, design, produce and launch products, as he worked closely with a variety of engineers and scientists and their various areas of expertise. "It was always a process of working with food scientists on tastes, flavor and creation of products – a matter of 'here is how you make it on bench-top' – and then handing things off to chemical engineers who would say 'how do we scale-up while maintaining the product design and reaching the financial metrics?'" Kaiser was involved with overseeing the design and launch of a number of Mars Chocolate products, including several products in the Dove product line, and especially Dove caramel. But anything involving chocolate that Mars produced on a global basis saw involvement from Kaiser. He points with pride to the fact that M&Ms is the best-selling candy brand globally, and enjoys sharing how technically challenging food design and scale-up can be. It took years of R&D resources to create an efficient manufacturing line that could also meet the consumer experience for caramel M&Ms ("It needed to be creamy and smooth for an M&M center, but not so soft that it made a mess").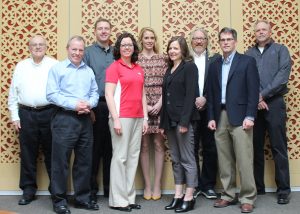 Kaiser was also involved with other aspects of Mars which directly translate to his ability to educate. He worked as an instructor for the Mars University Chocolate School, which provided numerous opportunities to deliver course content to a range of business associates from marketing, operations, research and development, commercial functions and senior leaders.  As a volunteer with the American Heritage™ division of Mars, a line that promotes authentic chocolate as made in the 18th century and supports the mission of education, he taught and engaged with participants of all ages.
"I had a rewarding career at Mars, which helped me to grow as a person, but then it became time to focus on what I wanted the next step to be," remarks Kaiser. "How can I continue to educate and coach and help others to grow? This new opportunity allows me to do that."
Kaiser will be co-teaching two undergraduate classes in the fall semester of 2018: ChE 210, Material and Energy Balance (with professor Zengyi Shao) and ChE 430, Process & Plant Design, with professor T.J. Paskach. "I would like to move further 'upstream' to those who are still early in their academic training, challenging students to perform at levels greater than they may think they can do," Kaiser says. "These interactions are mutual, as I expect to also benefit personally. I want to continue to learn."
He received the Iowa State College of Engineering's Professional Achievement Citation in Engineering (PACE) award in 2014. He holds 13 U.S. patents in the area of chocolate raw materials, process and finished product innovation.
Kaiser has been with three students of his own, his sons, on their journeys through Iowa State, with majors in Industrial and Manufacturing Science and Engineering, Electrical and Computer Engineering and Food Science, respectively. All three have graduated and are working in their respective industries.
Kaiser has relocated to Ames from his former home in Pennsylvania and is looking forward to being a "full-time" Cyclone.