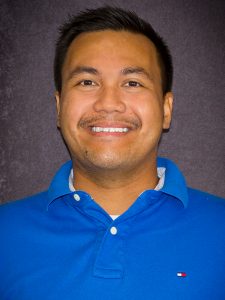 John Romal is the environmental lab and safety manager at Iowa State University's Department of Civil, Construction and Environmental Engineering (ISU CCEE). In his current duties, Romal is responsible for research and teaching laboratory operations, including sample preparation for undergraduate students, equipment maintenance, user supervision and training, safety inspections and general operations. He also collaborates with researchers on proposal development and project execution, conducts analytical analyses and oversees safety procedures and processes.
Prior to coming to ISU, Romal earned his undergraduate degree in chemistry and physics in 2013 from Benedictine University in Lisle, Illinois. He then participated in an Ames Laboratory/U.S. Department of Energy Science Undergraduate Laboratory Internship before deciding to pursue graduate studies at ISU. He earned his master's degree in organic chemistry in 2016. His previous work includes professional experience as a high performance liquid chromatography laboratory analyst at Eurofins Nutritional Analysis Center in Des Moines, as well as both a synthetic organic chemist and production support chemist at Hach Company in Ames.
Outside of his professional life, Romal competes in nation-wide amateur volleyball tournaments — indoor volleyball during the colder weather and grass/sand volleyball during the warm seasons. Traveling, cooking and hiking are also favorite hobbies of Romal's.
Learn more about faculty and staff at ISU CCEE by visiting our website,
www.ccee.iastate.edu
. Follow us on
Facebook
,
Twitter
and LinkedIn (search Iowa State University Civil, Construction and Environmental Engineering and ISUConE). New to ISU CCEE: follow us on
Instagram
and Snapchat @isuccee for research sneak peaks, trivia, departmental history, live event coverage and more.