A mechanical engineering faculty member is part of a symposium that will focus on nanotechnology in food manufacturing.
Carmen Gomes, an associate professor of ME, has helped to organize a symposium entitled Convergence of (nano)Technology and Food Manufacturing (CoNFoMA). The event, which will take place Sept. 8 and 9 on the University of Minnesota campus in Minneapolis, "will focus on establishing a collective vision for linking cutting edge research with food engineering across the food/water/energy/sanitation spectrum, as well as safety and sustainability," according to Gomes.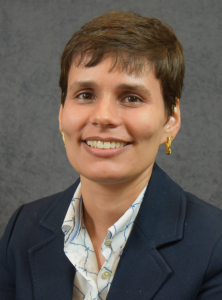 "The goal is to generate 'new food for thought' and highlight the need for convergence between several domains, to address the challenges presented by manufacturing food, to feed ten billion people. A mixed audience from industry, academia and students, with diverse backgrounds is expected," said Gomes. " We are gathering a broad variety of speakers from large companies – such as DuPont, IBM, GE, General Mills, Pepsi – as well as small companies, government, and academia including some of our colleagues, like Dr. Catherine Woteki from Iowa State's Department of Food Science and Human Nutrition."
The event is sponsored by the U.S. Department of Agriculture's National Institute of Food and Agriculture and was co-organized by Eric S. McLamore, an associate professor of agricultural & biological engineering at the University of Florida.
Gomes, who also serves as a researcher in Iowa State's Virtual Reality Application Center, joined the Iowa State faculty in fall 2017. Prior to coming to Ames, she served as a faculty member in Texas A&M's Department of Biological and Agricultural Engineering. She holds a Ph.D. in biological and agricultural engineering from Texas A&M and a B.S. in food engineering from the Federal University of Vicosa in her home country of Brazil.
Her research falls within the department's Nanoscale and Bioengineering & Translational Health research areas, with her particular research focuses on food safety.
"Our current research focus is on development of biosensors using nanoscale approaches for measuring small molecules and bacteria in food and agricultural systems, which includes water, soil, and agricultural products," said Gomes. "Mechanical engineering provides the basis, the fundamental engineering concepts like thermodynamics, manufacturing, nanoscale material properties, data analysis and the ability to apply them successfully to develop these sensors and meet the requirements for in-field measurements. One example is the rapid detection of foodborne pathogens in food samples in processing plants"
Registration for the event is $170, which includes all meals. Click here for more info and to sign up.