This is part of a series featuring students from Team PrISUm who are competing in the 2018 Formula Sun Grand Prix (July 10-12) and American Solar Challenge (July 14-22). This year's race follows portions of the Oregon Trail, beginning in Omaha, Nebraska and finishing in Bend, Oregon.
For updates throughout the race follow PrISUm on Facebook and Twitter.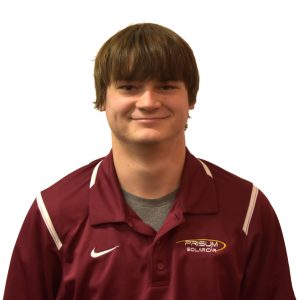 Name: Jake Aunan
Hometown: Rock Island, Illinois
Year: Junior
Major: Software Engineering
Role on PrISUm: Assistant Electrical Director
Your favorite part of being on Team PrISUm?
Working with such great, dedicated people towards something that we can really make a difference with. Not only by showcasing our technology, but also inspiring others to continue pursuing their passions and pushing technology forward.
What advice would you have for a student interested in joining PrISUm?
Even though the club may seem intimidating at first with everything going on, everyone is extremely nice and would love for you to reach out and ask questions. We are always thrilled to have new members and will work to find a good fit for you on the team.