This is part of a series featuring students from Team PrISUm who are competing in the 2018 Formula Sun Grand Prix (July 10-12) and American Solar Challenge (July 14-22). This year's race follows portions of the Oregon Trail, beginning in Omaha, Nebraska and finishing in Bend, Oregon.
For updates throughout the race follow PrISUm on Facebook and Twitter.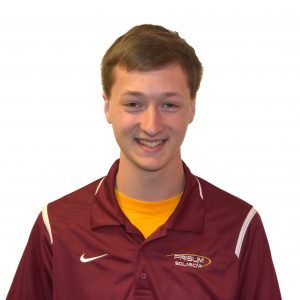 Name: Ben Kenkel
Hometown: Carroll, Iowa
Year: Sophomore
Major: Computer Engineering
Role on PrISUm: Electrical Team Project Manager
Career aspirations: I am looking to continue being involved with software development. I'm hoping to focus on embedded systems. I would also like to find a way to be involved with renewable energies.
Your favorite part of being on Team PrISUm?
I've really enjoyed being apart of a close-knit team working towards a united goal. We are all apart of a really cool project that relates to something that I am passionate about. Every member of our team is passionate about what we do and you can really tell when it comes time to work hard.
What advice would you have for a student interested in joining PrISUm?
Give it a chance. It can be a lot of work and if it isn't for you then at least you tried. BUT, for most of our team members, we have found that we have a great team culture that is conductive to learning and having fun while working on a super awesome project.