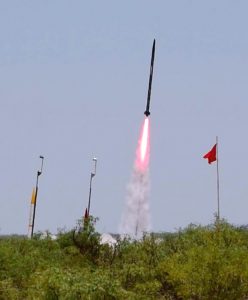 They may have just left the launch pad in the world of student organizations, but Cyclone Rocketry Club's trajectory of success has reached another new high with a third-place finish in the prestigious Spaceport America Cup competition – in the group's rookie effort.
CyROC, as it's called, took third place in the 10,000 foot COTS (Commercial Off The Shelf) All Propulsion Types division of the intercollegiate competition. Its entry, a rocket named INVICTUS 1, was designed and assembled through a joint student project between the Departments of Aerospace Engineering and Mechanical Engineering. Students from both those majors were involved, along with students majoring in electrical and computer engineering.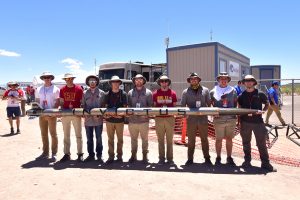 The Spaceport America Cup, held in south central New Mexico, is a global rocketry competition, with this summer's event being the second one held. More than 100 teams from as many as ten countries have taken part. Teams attempt to have their rockets reach as close to a specified target altitude as possible while carrying a payload. With a target apogee (highest point reached above Earth) of 10,000 feet, INVICTUS 1 reached an apogee of 10,341 feet, which netted third place. INVICTUS used a student-designed actively controlled air braking system to stop the rocket on its ascent to the target apogee.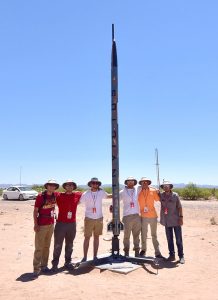 "As rookies, we made a huge splash at this competition and have set ourselves up as a force to be reckoned with the future," said Dereck Ioos, club president. "All of the judges, employers and facilitators at the event were extremely impressed by our engineering and manufacturing abilities, as well as our professionalism and ability to carry ourselves on such a large stage. They found it hard to believe that we are all new at this."
View a video of the INVICTUS 1 launch.
Indeed, in its short life Cyclone Rocketry Club has already become known for making big impressions. It was formed in October of 2017 and in February of 2018 was named Newcomer Club of the Year at Iowa State. In mid-May of this year the club successfully launched and recovered INVICTUS 1 in a test flight in North Branch, MN. This was the only test for the craft prior to the Spaceport America event. The club, which operates on an academic year-basis, will soon be making plans to transition to team leaders for the upcoming year. Teams include Airframe, Mechanical, Avionics, Payload and Recovery. "This year we ran the commercial off the shelf motor in the rocket, but there are already plans underway for next year and in the future we plan to advance into the Student Research and Development (SRAD) category and to make the motor ourselves at some point," said Ioos, regarding the 2019 Spaceport America Cup.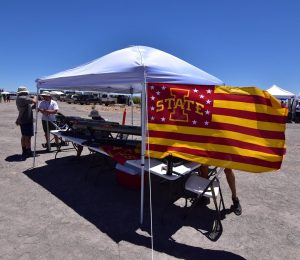 Members of Cyclone Rocketry Club who were part of the INVICTUS 1 effort are: Abiel Amador (AerE); Maciej Batura (AerE); Benjamin Briggs (AerE); Will Flanery (AerE); Dereck Ioos (AerE); Austin Kaiser (AerE); Jesse Katamay (AerE); John Kremer (AerE); Andrew Mallek (ME); Joseph Marcus (AerE); Ryan Massey (AerE); Jensen Mayes (ECpE); Garrett Miller (AerE); Luke Palo (AerE); Nicholas Reiter (ME); Nathan Roth (AerE); Robert Rydberg (AerE); Jacob Sammons (AerE); Michael Thompson (AerE); Logan Zasada (ECpE).
The students were assisted by advisors Leonard Bond, professor, aerospace engineering and courtesy professor, mechanical engineering; Josh DeLarm, mechanical engineering teaching laboratory coordinator; and Travis Sippel, assistant professor, mechanical engineering.
Learn more about Cyclone Rocketry Club.