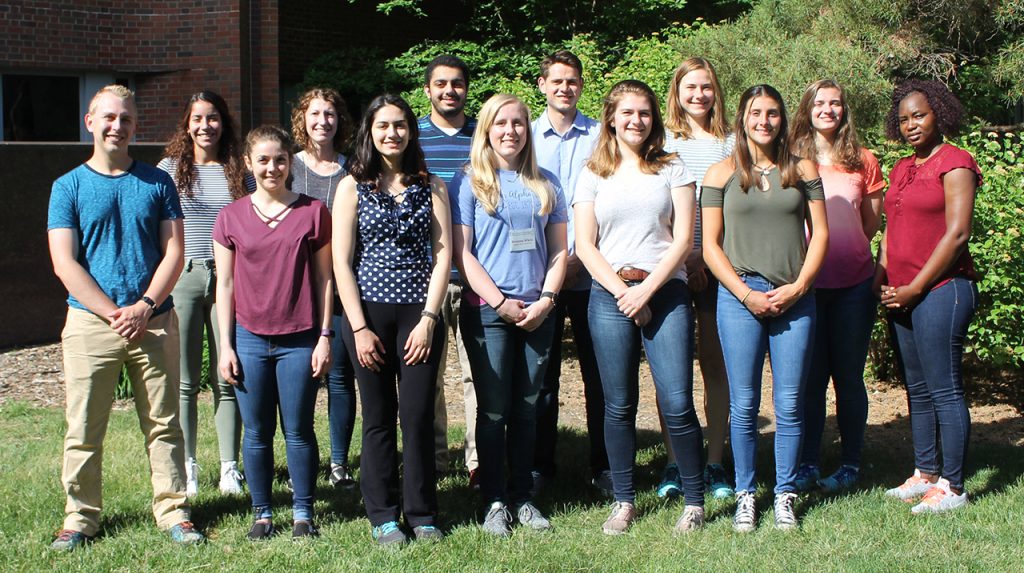 The Department of Chemical and Biological Engineering (CBE) has welcomed the 13 participants in this year's BioMaP REU program. Hosted annually by the department with funding from the National Science Foundation, the Biological Materials and Processes Research Experience for Undergraduates (BioMaP REU) provides mentored research. Each student is paired with one ISU CBE faculty member and one CBE graduate student or post-doctoral researcher with similar interests, to conduct research on a pre-determined topic.
This year's participants come to the program from both near and far. They include:
Kristen Allaire, University of Rhode Island, Kingston, RI. Faculty mentor Andrew Hillier, graduate student mentor Russell Mahmood (Hyperspectral Imaging of DNA and Protein-Linked Metal Nanoparticles).
Morganne Borsh, University of Northern Iowa. Faculty mentor Nigel Reuel, graduate student mentor Denis Tamiev (Resonant Biosensors for Enzyme Activity, Protein Binding and Ion Detection).
Hannah Boyce, Northeastern University, Boston, MA. Faculty mentor Kaitlin Bratlie, graduate student mentor Anuraag Boddupalli (Polymer Properties That Selectively Target Tumor-Associated Macrophages).
Laurice Chewouo, Des Moines Area Community College, Ankeny, IA. Faculty mentor Rebecca Cademartiri, graduate student mentor Robert Swenson (Bacteriophages on Porous Surfaces Used for the Detection of Bacteria).
Carly Dolgos, Geneva College, Beaver Falls, PA. Faculty mentor Eric Cochran, post-doctoral mentor Sri-Harsha Kalluru (Lignin-Based Engineering Thermoplastics).
Jo Lohman, Drake University, Des Moines, IA. Faculty mentor Qun Wang, graduate student mentor Sherri Qi (ex-vivo Mini-Gut Mucosal System for the Investigation of New Oral Vaccine).
Sadaf Maghsoudipour, Illinois Institute of Technology, Chicago, IL. Faculty mentor Derrick Rollins, graduate student mentor Dillon Hurd (The Artificial Pancreas Project).
Brandyn Moore, Bucknell University, Lewisburg, PA. Faculty mentor R. Dennis Vigil, graduate student mentor Arya Ketchabi-Haghighat (Model Validation for Photosynthetically Active Radiation Transport in Algal Photobioreactors).
Laura Pesquera-Colom, Iowa State University (biology major). Faculty mentor Surya Mallapragada, post-doctoral mentor Metin Uz (Drug and Gene Delivery).
Trevor Simmons, University of Wisconsin-Madison, Madison, WI. Faculty mentor Thomas Mansell, graduate student mentor Samuel Rothstein (Probiotic Engineering).
Eleanor Wettstein, Macalester College, St. Paul, MN. Faculty mentor Laura Jarboe, graduate student assistant Miguel Chavez-Santoscoy (Contribution of Membrane Proteins to Microbial Robustness).
Brianna White, Kansas State University, Manhattan, KS. Faculty mentor Ian Schneider, graduate student mentor Shalini Unnikandam-Veettil (Competition Between Soluble and Extracellular Matrix Signals During Cell Migration).
Karlos Zachary, University of Minnesota-Duluth, Duluth, MN. Faculty mentor Balaji Narasimhan, graduate student mentor Adam Mullis (Immunomodulatory Nanovaccines Against Infectious Diseases)
In addition to conducting research, participants also take part in seminars, meetings, professional development workshops and social events. The program concludes with each participant preparing a poster presentation summarizing their summer research. They will be presented in early August as part of showcase of research posters from all summer REU programs at Iowa State.
The program is coordinated by Professor Monica Lamm, who will be assisted by graduate student Russell Mahmood. More information about the BioMaP REU program can be found on the CBE web site here.