Civil engineering student finds independence, adventure in campus home 
If you were to talk to Jens Dancer on his first day at Iowa State University (ISU), you may have heard this …
"I think when I came to ISU as a freshman, I wasn't really sure if this was going to be my home," he recalls.
Fast forward three years, and you'll hear a different story …
"I've really developed my sense of independence here," he says. "I've become my own person. This is now my campus."
The college senior has truly steeped his university experience in cardinal and gold. Dancer has served as both a Cyclone Aid and a Cyclone Aid Advisor for ISU New Student Programs. For those who have never been to campus, Cyclone Aids can be seen throughout the year leading prospective student tours and answering questions.
"Through that, I get to see the entire orientation process, from when students are accepted to Iowa State, to when they first step onto campus, to when they actually come back here in the fall for Destination Iowa State," he explains. "I am a part of that process, and it is really encouraging for me to see new students come here."
Dancer hasn't only been a guide for other Cyclones. He has been a trailblazer when it comes to taking new opportunities. Dancer studied abroad in Spain, conducted undergraduate research related to environmental engineering, and tutored local middle school students. He even started a not-for-profit company called HC501 Inc., which serves a rural community in Belize.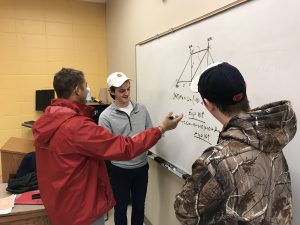 On top of that, he tutors his peers. Dancer says there is a certain feeling that exists in an ISU class. It's a part of the "engineering environment."
"I feel like I know when I'm walking into a classroom that all those other engineering students, or at least the students that I spend my time with, are very serious engineering students …" he says. "I appreciate that a lot, because I know that I can count on them."
From year one to year three, the adventures and friendship have all been a part of the experience for Dancer.
"This is where all my things are," he says. "This is where my friends are. This is my home."
---
Note: In March-May 2018, Iowa State University College of Engineering Communications is setting out to find the top reasons why undergraduate students choose to pursue their educations at ISU CCEE. "Engineer at ISU CCEE" is a video/written series featuring undergraduate students from ISU CCEE's two majors, civil and construction engineering. Each student shares his or her unique reason for choosing Iowa State. Find out about the student experience at ISU CCEE by following us on Facebook, Twitter, and LinkedIn (Iowa State University Civil, Construction and Environmental Engineering and ISUConE).