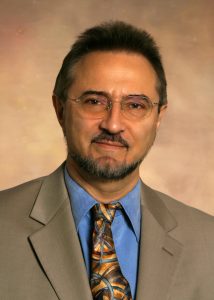 Dr. Valery Levitas, Vance Coffman Faculty Chair Professor of Aerospace Engineering and Mechanical Engineering, and faculty scientist with the U.S. Department of Energy Ames Lab, has been named the 2018 recipient of the Khan International Award, also known as the Khan Plasticity Award.
Levitas was noted for outstanding contributions to the field of plasticity over a period of 24 years (1993-2017), and especially for pioneering works on interaction between phase transformations and plasticity in materials under high pressure at multiple scales.
This award was presented to Levitas at the recent 24thInternational Conference on Plasticity, Damage & Fracture in San Juan, Puerto Rico. Levitas also delivered a 50-minute plenary lecture as part of the conference.
The Khan International Award is named after the International Journal of Plasticity Founding Editor-In-Chief Akhtar Khan. The award committee consisted of five former recipients of the award from the U.S., France, Belgium, and South Korea. The selection criteria included general quality, quantity, and standing of research contributions to the field of plasticity and quantitative parameters of citations of all plasticity-related papers; papers published in the International Journal of Plasticity; and papers that have more than 50 citations, excluding self-citations.
The award also includes a mini-symposium on phase transformations and other structural changes in materials, which will be organized in Levitas' honor at the 25th International Conference on Plasticity, Damage & Fracture in January 2019. A special issue of the journal will include the symposium presentations.
Levitas is also a courtesy professor in Iowa State's Department of Materials Science and Engineering.
More information about the Khan Plasticity Award is available here.
Read more about recent Aerospace Engineering faculty honors and awards on the department web site here.