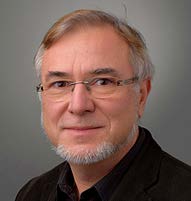 Department of Aerospace Engineering associate professor Norbert Meyendorf has been elected a Fellow in SPIE, the international society for optics and phonics. The honor recognizes his achievements in nondestructive testing.
In announcing the honor, SPIE stated "Meyendorf has made remarkable achievements that have significantly influenced the research and practice in nondestructive evaluation (NDE), especially in the field of high-resolution optical microscopy and eddy current sensing applied to nanomaterials and composite materials. His research on thermo-acoustic fatigue characterization and high-resolution eddy current sensors for NDE are widely regarded as classics in the field. He also is known for his work in the implementation of high-resolution microscopy and thermography. His contributions in these areas have provided the engineering community with deep insight and effective tools to characterize nanomaterials in ways that were previously impractical."

The group also lauded his work in optics, stating, "His service to the optics community has been extensive. He has served as director of a number of world-renowned institutes, including the Fraunhofer Institutes in Berlin and Dresden, as well the Iowa State University Center for NDE, and the University of Dayton Research Institute. He is the editor-in-chief of the Journal of Nondestructive Evaluation, director of the Iowa Section of the ASNT, and vice president of the European Center for Microand Nano-Reliability."
Meyendorf has received several honors and awards with SPIE, including a SPIE Symposium Best Paper Award. He also gave a plenary talk at the 2017 SPIE SS/NDE Symposium.
To view the full release from SPIE regarding Meyendorf's election, click here. A full listing of the 73 new Fellows elected to the SPIE can be found here.
Read more about other recent Aerospace Engineering faculty honors and awards on the department web site here.