This is the third story in a series featuring Iowa State National Society of Black Engineers members who are leading NSBE's mission at Iowa State — and at the regional and national level. Click here for the first and second story in the series.
Promote Positivity: Ahmad Shehata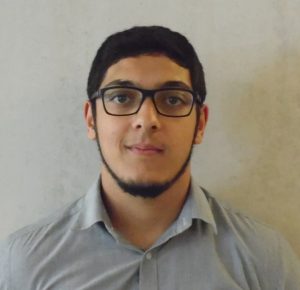 Ahmad Shehata, a senior in mechanical engineering, is the Technical Outreach and Community Help (TORCH) chair for NSBE's Region V.
As the TORCH chair, Shehata promotes STEM events and holds workshops and events to let people know more about NSBE. He is particularly passionate about NSBE events that encourage kids to pursue STEM fields.
"It feels really good to impact kids in a positive way. A lot of parents express interest in NSBE events related to STEM-fields because their kids enjoy our events so much," Shehata said.
Shehata also serves as an example that NSBE also helps people get their first internship through NSBE career fairs. After attending a single NSBE career fair, Shehata got interviews with Honeywell, Cummins and Boeing.
Not only does NSBE help students get a strong professional start, but the organization supports its members throughout their lifetime, according to Shehata.
"NSBE professionals also help fellow NSBE members find news positions or paths," Shehata said. "NSBE is a network of people in the same majors with an inclusive family vibe, all working to support and reach the same goal. Being involved has definitely connected me with a lot of great individuals. We all come from different backgrounds, schools and states, and that lets you expand your mind."
For more information about NSBE, visit nsbe.org or attend a general assembly meeting, held every other Thursday evening in Marston Hall. There are no membership restrictions for NSBE, and any member can run for a chapter officer position, which take place at the end of the spring semester each year.