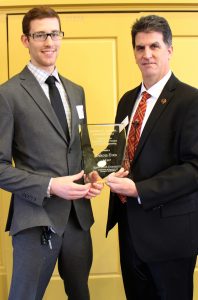 The Department of Chemical and Biological Engineering said "congratulations" to 55 bachelor's degree and two Ph.D. recipients December 16.
A number of undergraduates, family members and friends joined in the traditional pre-commencement reception graduation morning. Each student in attendance is recognized and given the opportunity to introduce family members and share a special memory of their time in the department.
Dakota Even was honored as the recipient of the Lawrence E. Burkhart Outstanding Senior Award.
The department wishes all of its graduates well in their future endeavors.