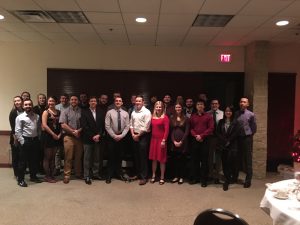 Saturday brings the flipping of tassels for 87 undergraduates in civil, construction and environmental engineering (CCEE)
ISU CCEE celebrated the graduation of civil and construction engineering undergraduates at its pre-commencement ceremonies, held on Saturday, Dec. 16.
In total, 87 students earned degrees, with 56 civil engineering degrees and 31 construction engineering degrees awarded to undergraduates.
Both the civil and construction engineering programs held pre-commencement receptions for its graduates and their families. Faculty members gave brief remarks, and each graduate spoke about his or her time at Iowa State and favorite memories of ISU CCEE.
---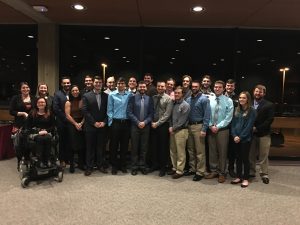 Pictured:  Photos of civil engineering (above) and construction engineering (left) graduates at each group's senior dinner. Senior dinner events are held prior to graduation and are a time for graduates to reflect on their educational experiences at ISU CCEE.