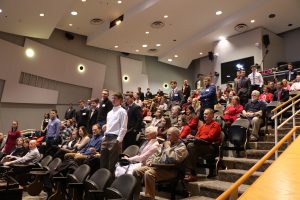 Students and their families gathered in Howe Hall on Saturday morning to honor the aerospace engineering Fall 2017 graduates. The students enjoyed breakfast with their families and professors before a ceremony in Lee Liu Auditorium to recognize the graduates as well as several exceptional honorees.
Interim chair Christina Bloebaum spoke to the graduates and congratulated them on their achievement. She also recognized each of them individually and shared their career plans after Iowa State.
Jeffry Breitfelder, Nathan Hemming, Kirsten Lane, Michael Mohr, and Allison Sandlass were honored as exceptional students by the department. After the pre-commencement ceremony, the students received their diplomas at the Undergraduate Commencement Ceremony in Hilton Coliseum.
[metaslider id=29185]