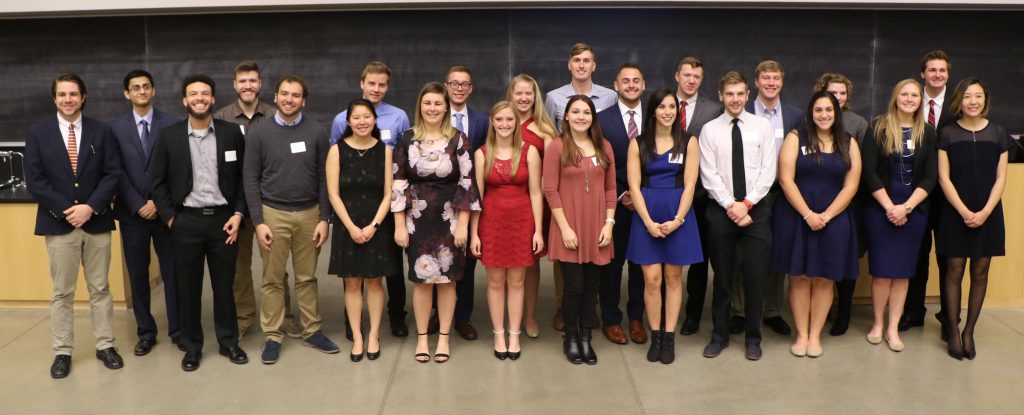 Graduating industrial and manufacturing systems engineering students and their families gathered together in Troxel Hall on Saturday morning to honor the Fall 2017 graduates. The students enjoyed breakfast with their families and professors prior to a pre-commencement ceremony.
48 students graduated with a Bachelor of Science, 8 students with a Masters in Systems Engineering, 8 students with a Masters in Engineering Management, and one student will be conferred with a PhD in Industrial Engineering. These graduates join a group of more than 4,200 alumni of the department.
"Our graduates have been our priority for some time," Therkildsen Chair of IMSE Gül Kremer said while addressing the audience. "We teach them, we engage them, we laugh and learn, and we grow together. Our mission is sacred, your loan to us is precious, our commitment is real."
Jakob Croghan, a graduating senior in IMSE, was the College of Engineering's student marshal during the fall 2017 undergraduate commencement ceremony. He was accompanied by K. Jo Min, associate professor of industrial engineering, to lead the engineering class into the ceremony held on Dec 16.
Each student was recognized and shared their future plans, as well as memorable moments from their time at Iowa State. After the pre-commencement ceremony, the students received their diplomas with the rest of the graduating class at the Undergraduate Commencement Ceremony in Hilton Coliseum.
[metaslider id=29162]