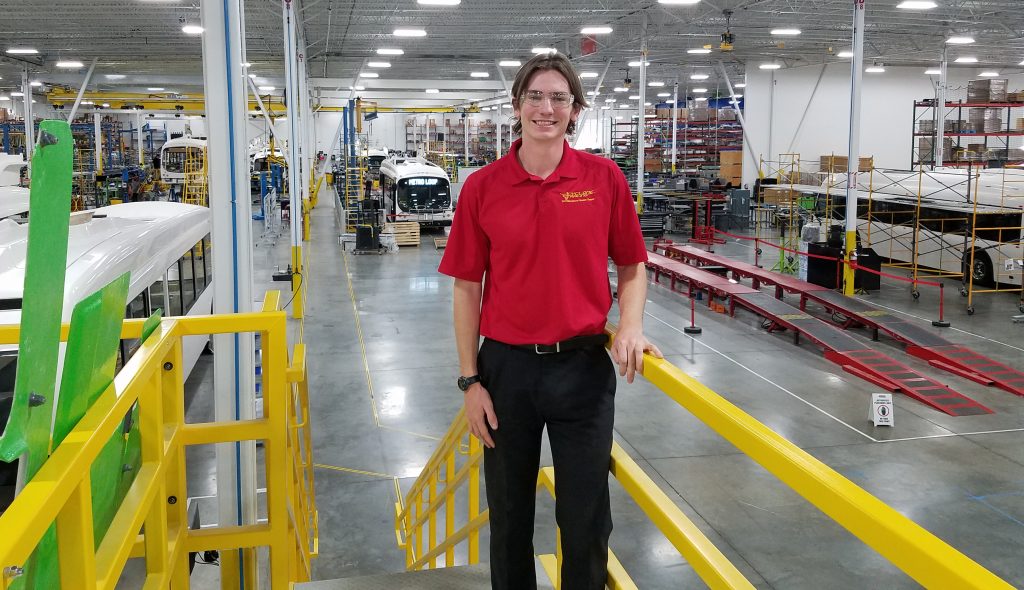 CyRide buses frequently spotted around campus and other parts of Ames could soon be getting a facelift.
Ryan Saunders, a senior mechanical engineering major, has spent the past semester studying the feasibility of electrifying CyRide, the campus and city bus system. The project, which Saunders is working on as part of an independent study course, has been one way he has been able to combine his two passions: mechanical engineering and sustainability.
"My passion since I've been young has always been sustainability. I think the electrification of our transport system is a huge step in reducing our nation's carbon footprint," said Saunders. "Electrifying public transit systems has a huge impact not only on carbon reduction but also emission reduction from NOx emissions, particulate emissions, things that really have a negative impact on the communities these buses serve and that's why I focused this project on the electrification of CyRide."
Aside from just focusing on the science and the numbers, the project has given Saunders the opportunity to examine other macro-level aspects as it "went from an engineering project to a communication and relationship building project."
"As a mechanical engineering student during your coursework, you mostly focus on the hard numbers but when you get into industry it's more about how you can use those numbers so people can make a decision and this project really embodied that," said Saunders. "I had to use my ability to analyze data then form an argument with that data so people can make informed, intelligent decisions. I was able to meld the communications skills I gained through internships with the technical, mathematical, and analytical skills I gained through my ME degree."
Energy sourcing has been an important factor that Saunders examined with this project. He said that the idea of an electric bus can be counterintuitive if the electricity used to power the bus is generated from high-carbon sources such as coal. The economics are another factor that Saunders has considered during this project.
"One of the big benefits [of switching to electrics buses] is cost. Your operational costs of CyRide will go down massively and since CyRide is mostly funded by student fees this could help reduce that fee for students going forward," Saunders said, adding that the electric buses are also quieter than their diesel-powered counterparts for those both inside and outside of the bus.
Saunders has worked closely with ME lecturer Howard Shapiro who has served as an advisor on the project. Shapiro, whose research interests include thermodynamics and energy efficiency, said this project has given Saunders the opportunity to develop skills that are hard to teach in a traditional classroom setting.
"One element that relates to the engineering but that I think is harder to teach in the curriculum is the economics of it," said Shapiro. "This project makes a lot of sense from an economic standpoint if it's done right. That's something that's harder for us to teach in the classroom but engineers need to really think about the bottom line and make decisions that are based on that."
Shapiro said that Saunders has also been able to develop his interpersonal and communication skills through this project.
"He was able to take his own personal interest in sustainability and couple it with what turned out to be not only a very important and significant technical application but also the skills to go out and work with it in the public and try to make what you learn, and what you're able to do technically, understood by people without a technical background," said Shapiro. "So I think there were many elements of that that relate to engineering that we can't teach the same way in a class situation."
Shapiro first joined the Iowa State faculty in 1975 as an assistant professor of mechanical engineering after graduating with his PhD in mechanical engineering from The Ohio State University. He eventually worked his way up to vice provost before retiring from Iowa State in 2004, when he took a position as an associate vice president at Wayne State University in Detroit. He then retired from Wayne State in 2012 and returned to Iowa State in 2013 as a lecturer.
Outside of his university responsibilities, Shapiro also served on the Ames school board from 1988 to 1997, which included six years as the board's president. All of this experience gave him a strong base of both administrative and technical expertise. This expertise and the connections he's developed over the years came in handy when working with Saunders on this project.
"I have a long background with the city government in Ames and also with the university administration. CyRide is an example of a university-city partnership so I did have those contacts and was able to pull them in and make the connections for Ryan. He did a lot to connect with professional and business  people off campus and who provide technical support to this kind of thing. So he was able to connect in that arena and I was able to get him connected in the city arena. I think that also made the project very much stronger," Shapiro said.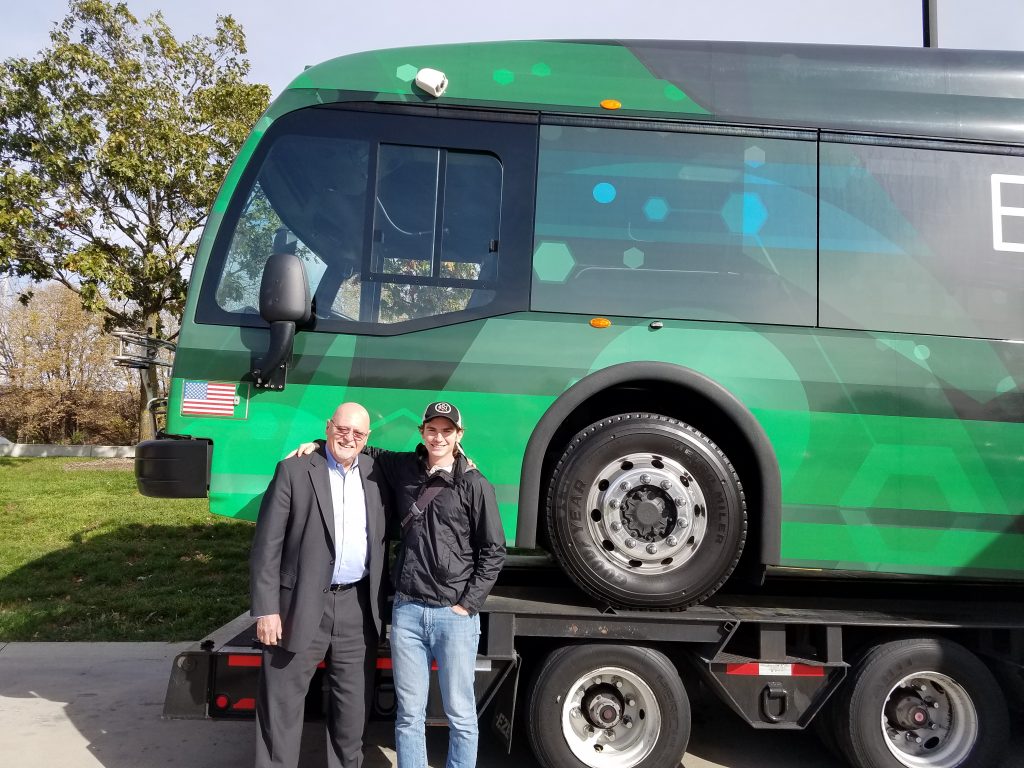 Throughout the project Saunders has also worked closely with Proterra, an electric bus company based in Greenville, South Carolina. CyRide will begin working with Proterra in January to analyze various routes and determine the feasibility and cost of implementing electric buses. If Cyride decides to proceed with the project they will continue to work with Proterra, and possibly CTE (Center for Transportation and the Environment), to pursue grant funding for electric buses and charging infrastructure.
Saunders came to Iowa State from Geneva, Ill., a suburb about 40 miles west of Chicago. He chose ISU because he liked the engineering program and felt it was more affordable than other options. He added that he liked the faculty, the engineering campus, and the availability of resources which he said made the decision to come to Iowa State a "no-brainer."
Upon arriving on campus in the fall of 2013. Saunders was undecided about what to study but ended up choosing mechanical engineering because he felt it offered him flexibility.
"I was drawn to mechanical engineering because of how broad it was. You start with the math and physics and once you have a better idea of what you want to learn you can focus your degree toward that so that's what really drew me to mechanical engineering. It allowed me freedom and choice which I really enjoyed," said Saunders. "Because of that I focused my degree on sustainable energy systems and a lot of my technical education credits focused on wind energy, renewable energy systems, energy economics, and things of that nature.  I was drawn to mechanical because of its broad appeal and options and really the impact that I could have with that degree."
Saunders said he also appreciated that the curriculum allowed him the flexibility to take an independent study where he was really able to hone in on his interests. Not only did the independent study give the opportunity to work on something he's passionate about but it actually led to a full-time job with the Proterra office in South Carolina. He graduated this month and will start the job after that.
"Through this project I was able to get a career that fits my passions and also they were able to find someone that they were looking for that would work well with their company, so it's a win-win. I would really recommend for any student that hasn't felt completely fulfilled in their coursework or who isn't satisfied with some of the careers they see out there to pursue an independent study because you'll be surprised with what you can find," Saunders said.