On Thursday, November 30, 2017, Kristen Constant was selected by President Wintersteen as the new interim vice president and chief information officer for Iowa State University, replacing Jim Kurtenbach. She began her new position on December 1, 2017. Constant has been a faculty member in the Department of Materials Science and Engineering since 1992. She has been the department chair for the past five years and holds the rank of Morrill Professor and Wilkinson Professor of Interdisciplinary Engineering.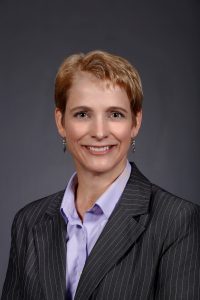 Constant has been a leader in the university, college, and department for many years. She became an assistant professor in 1992, associate professor in 1998, professor in 2011, and Morrill Professor in 2014. From 2007-2009, Constant was an ADVANCE Professor and from 2009-2012 was the College of Engineering ADVANCE Equity Advisor. ADVANCE is an Iowa State initiative to recruit, retain, and advance women and people of color in faculty positions. In 2008, Constant was selected as a Women Impacting ISU recipient. In 2016 she was nominated for the State of Iowa Research Innovation and Leadership Award and received the Iowa State University Award for Departmental Leadership. In 2017, she joined a prestigious group of American Society for Engineering Education (ASEE) Fellows for her committed work to furthering education in engineering and engineering technology, and she was also awarded the College of Engineering Dean's Diversity and Inclusion Excellence Award.
Constant will work closely with Iowa State President, Wendy Wintersteen, and her team to continue working on an array of initiatives. These include transitioning and implementing the new university enterprise and learning management systems, Workday and Canvas, respectively.
Sarah Rajala, Dean of the College of Engineering, said, "Kristen has made many positive contributions to the department and college, and we will miss having her serving in a leadership capacity within the college. However, we look forward to collaborating with Kristen as she takes on this new leadership position."
As new interim vice president and chief information officer, Constant will continue to be a tenured Morill Professor in the materials science and engineering department and hold the named professorship, Wilkinson Professor of Interdisciplinary Engineering.
Constant reflected back on some of the highlights that she experienced as department chair in materials science and engineering. She said, "A few highlights include getting to hire some fantastic people, both faculty and staff, and watching them grow. I'm also proud of our team's efforts to improve processes and communications with the goal of improving efficiency and effectiveness."
Constant continued, "I'll miss, of course, the people the most. I'll miss interacting with each of them on a daily basis. They're the core of my ISU family."
In her new position as interim vice president and chief information officer, she will be learning and listening to many new people. "I love learning new things and meeting new people," Constant said. "And I'll be doing a lot of both. I am also very excited by the opportunity to make a positive difference in how we, as a university, leverage technology to improve how we do all of our work, whether its teaching, research, or engagement."
Richard LeSar has filled the position as interim department chair for the Department of Materials Science and Engineering. LeSar was the former chair from 2006-2012.
LeSar said, "Taking on a position such as a chair, even in an interim position, can be daunting.  Professor Constant, however, has left the department in excellent condition and with a superb staff. She has also put in place initiatives to prepare the department for the future.  My job is to continue her work and leave the department in as best condition as possible for the next chair."