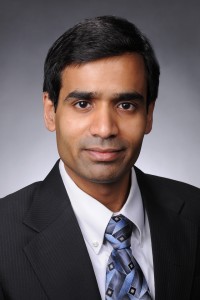 Anupam Sharma, assistant Professor of Aerospace Engineering, has been named an Associate Fellow by the American Institute of Aeronautics and Astronautics (AIAA). The Class of 2018 will be honored at the AIAA Science and Technology Forum and Exposition in January.
"The distinguished individuals comprising the Class of 2018 Associate Fellows exemplify extraordinary accomplishments and leadership in the global aerospace community," said AIAA president Jim Maser.
Sharma joined Iowa State University in 2012, after spending three years at General Electric Global research. Currently, Sharma is studying owl wings for bio-inspired ideas for quieter aircraft and wind turbines as part of a research grant from the National Science Foundation and the Iowa Space Grant Consortium. He also spent two months as a Summer Faculty Fellow at the Air Force Research Laboratory at Wright Patterson Air Force Base.
To be selected as an Associate Fellow an individual must be an AIAA Senior Member in good standing, with at least 12 years professional experience, and be recommended by a minimum of three current Associate Fellows.
Visit the AIAA website to view the rest of the associate fellows.