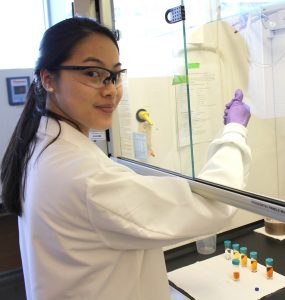 A grantee of the prestigious Fulbright Hong Kong Program is part of the Department of Chemical and Biological Engineering (CBE) for a ten-month stay as a visiting scientist. Si (Season) Chen began working with Professor Jean-Philippe Tessonnier in October.
For Chen, that has worked out just fine: "Iowa State was my first choice when I was applying to universities in the U.S. because there is a very nice match with my research and very good facilities to use here," she explained. But it may have been the responsiveness of Tessonnier that quickly sealed the deal: "He was very fast in getting back to me, and to give me lots of information about Iowa State and what it would be like to do research here," she commented, which, she said, made the choice an easy one.
Chen recently began a 10-month term where she is conducting research in glucose atomization using base catalysts in the area of conversion of biomass to value-added chemicals. Her research interests are heterogeneous catalysis of organic waste to platform chemicals, which can be converted to a broad array of fuel and other products. Her overall research aim is to tackle the problem of food waste through research. She is a Ph.D. candidate in engineering at the Hong Kong Polytechnic University, and is one of eight individuals in the Fulbright-Research Grants Council (RGC) Hong Kong Research Scholar Awards program.

Though she says she's a little worried about what an Iowa winter holds in store, the experience of being here far outweighs any cold weather concerns. "I feel really privileged to be here, and it's my first time in the U.S. Everyone here is so warm and friendly and welcoming. And coming from Hong Kong, where everything is compact and very busy, it's really nice to have open space."
The Fulbright Program is the U.S. government's flagship international educational exchange program and is supported by the U.S. Department of State. In partnership with the RGC, and with the support of the Lee Hysan Foundation, the program enables the Ph.D. candidates to conduct research in the United States. The program also brings students and scholars from the U.S. to universities in Hong Kong and Macau for research and teaching programs. The program was established in 1946 under legislation introduced by the late Senator J. William Fulbright, and now operates in more than 160 countries worldwide. The Hong Kong program has been in place since 1996 and has made exchanges with more than 100 scholars from Hong Kong to the U.S. possible.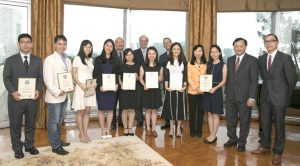 More information about the current Fulbright Hong Kong/Macau grantees can be found at https://hk.usconsulate.gov/pr-2017062901/.