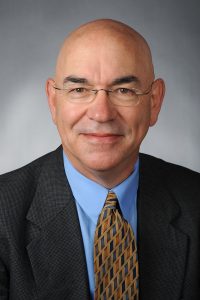 Tom Brumm, Mary and Charles Sukup Global Professor of Food Security, received an AgOnline Teacher of the Year Award, sponsored by Iowa State's Brenton Center for Agricultural Instruction and Technology Transfer.
The Teacher of the Year Award recognizes excellence in commitment to online teaching, outstanding teaching methods, innovative course design and delivery and contributions to the field of online teaching.
Brumm, who is also associate director of the Center for Sustainable Rural Livelihoods and an associate professor of agricultural and biosystems engineering, was nominated by his students in a Preservation of Grain Quality course. Here are a few student comments:
"I enjoyed the way the course was structured and I thought Dr. Brumm was an excellent professor."
"Dr. Brumm is very knowledgeable on the topics that he taught in class."
"Dr. Brumm did a great job at not just teaching the material but making the material easy to understand, even going down to the conceptual level.  This combined with the use of team groups allowed for a more apt learning environment."
"The course is very informative and I learned a lot that has prepared me for a future career in the ag industry."
"He does a great job explaining things and makes things easy to learn."
"Dr. Brumm does a great job helping you learn but also helps you learn out of the classroom."
Brumm was presented with the award in conjunction with the 2017 National Distance Learning Week.