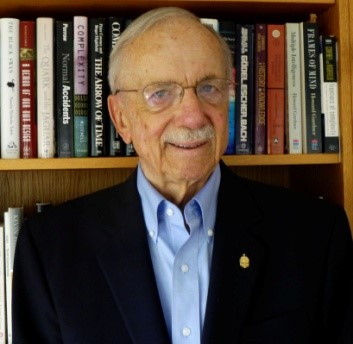 Bruce Johnson (BSME'55) has been named the 2017 recipient of the William H. Webb Medal.
The award is bestowed upon those who exhibit outstanding contributions to education in the fields of naval architecture, marine, or ocean engineering. Johnson graduated from Iowa State with a bachelor of science in mechanical engineering in 1955. While in Ames he served in the Navy ROTC. He then went to Purdue University where he earned his MS in 1962 and PhD in 1965, both in mechanical engineering. Upon graduation he joined the faculty at the United States Naval Academy, serving as an associate professor in the Department of Naval Architecture and Ocean Engineering, from 1964 to 1970 and professor from 1970 to 1999. Since 2000 he has served as a professor emeritus.
While at the academy Johnson lobbied for the development of new test facilities which improved hands-on educational experiences for students. He also served as Project Manager and eventually Director of the Hydromechanics Laboratory as well as Program Director of the Ocean Engineering major. Johnson has published numerous books and professional technical papers during his career which has spanned six decades.
Johnson said that many of his experiences at Iowa State played a major part in shaping his career.
"Academically, I really remember knowing Professor Henry Black, Professor Ted Okiishi and Professor Don Young who got me started in my fluid mechanics career. I taught several semesters at USNA using their ISU-based textbook," said Johnson. "My extra curricular experience as an NROTC student, Drum Major of the ISC Marching Band, President of the 1955 Senior Class and President of the Student Union board also taught me about team leadership."
The William H. Webb Medal was established in 1987 to recognize "Outstanding Contributions to Education in Naval Architecture, Marine or Ocean Engineering." The award is named in honor of the 19th century shipbuilder and philanthropist who was a founding member of the Society of Naval Architects and Marine Engineers.