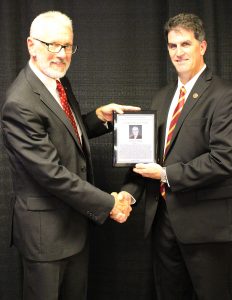 ISU Chemical and Biological Engineering (CBE) heralded the return of a former professor and department chair as Dr. Terry S. King was officially inducted into the department's Hall of Fame. King was a special guest and featured speaker as part of the annual CBE Honors & Awards Banquet October 20.
He recently retired from Ball State University, where he most recently served as interim president.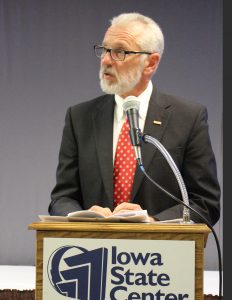 King received a B.S. in chemical engineering from Iowa State in 1975 and his Ph.D. from the Massachusetts Institute of Technology in chemical engineering in 1979. From 1979 to 1982 he worked at Exxon Chemical Company, and then began his professional academic career in 1982 at Iowa State in the Department of Chemical Engineering. By 1990 King was promoted to professor and assumed the responsibility of department chair, which he held for seven years. By the time his 15 years at Iowa State concluded, he had conducted research leading to over 150 peer reviewed publications and invited presentations. He holds three patents and received grants primarily from the Department of Energy and the National Science Foundation. He supervised seven master's students, 12 doctoral students, seven post-doctoral associates, and two visiting scientists.
Subsequent to his years as department chair at Iowa State, Dr. King served nine years as the Dean of the School of Engineering at Kansas State University, and was then hired by Ball State University as provost and vice president for academic affairs.
Following the sudden resignation of Ball State's president King was asked to step into that role, and postponed retirement plans to do so.
His professional affiliations have included the American Institute of Chemical Engineers, American Chemical Society and North American Catalysis Society.