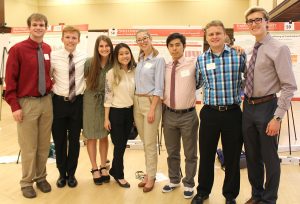 "Loved the program. Well-organized and everyone was extremely helpful."
"A great way to see what graduate school is really like."
"Really appreciated the way the graduate students and faculty were so involved."
With positive reviews and an expanded portfolio of research experience under their belts, the nine undergraduates in the Department of Chemical and Biological Engineering (CBE) BioMaP REU program have concluded their summer at Iowa State.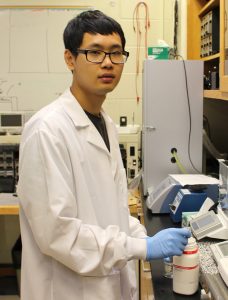 They joined other students involved in summer research at the university's Undergraduate Research Symposium and also enjoyed a sendoff reception in Sweeney Hall with CBE faculty and staff before turning their attention to upcoming fall classes at their respective institutions around the country.
The Biological Materials and Processes Research Experience for Undergraduates (BioMaP REU) program brings college students to the Iowa State campus to work under the mentorship of ISU chemical and biological engineering faculty to gain hands-on research experience in topics that match their educational interests and goals. This year's nine participants were chosen from more than 250 applicants. They included Matthew Burroughs, chemical & biomolecular engineering, North Carolina State University (mentors Qun Wang/Andrew Hillier); Julia Craft, microbiology, Brigham Young University (mentor Laura Jarboe); Mai Doan, biomedical engineering, University of Utah (mentor Kaitlin Bratlie); Darren Loh, chemical & biomolecular engineering, Johns Hopkins University (mentor Balaji Narasimhan); Marjem Mededovic, biomedical engineering, Illinois Institute of Technology (mentor Surya Mallapragada); Logan Morton, chemical engineering, University of Missouri (mentor Balaji Narasimhan); Ricky Robinson, bioengineering, Rice University (mentor Thomas Mansell); Shawn Van Bruggen, chemical and biological engineering, Iowa State University (mentor Ian Schneider); and Jie Hao Wu, chemical & biomolecular engineering, University of Maryland (mentor Nigel Reuel).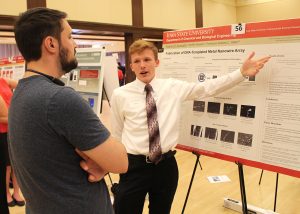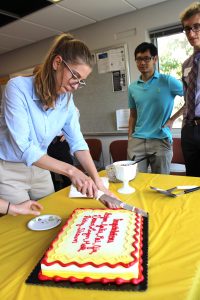 "This was a great experience. I had no major lab experience before this, nothing like this," said Robinson, who will be entering his sophomore year at Rice. "You don't know all the answers, but you try something new each day to get there. It's very valuable because the sooner I can start working in research, the better."
"The graduate school representative who came to talk to us was really great, and really helped me with making decisions about the direction I want to go in the future," said Mededovic, who added, "The involvement of everyone here in amazing. Even though Dr. Mallapragada is a very busy person, when I would email her a question I'd have a response within an hour."
"I wasn't sure about graduate school, but this program gave me the confidence to know that I can do it," said Burroughs.
An album of photos is on the CBE Facebook page.
The program is funded by the National Science Foundation and will be held again in CBE during the summer of 2018.  More information and registration will be available early next year. General information about the program can be found on the CBE web site.