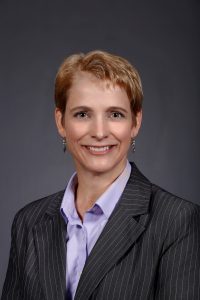 Dr. Kristen P. Constant has been elected as a 2017 American Society for Engineering Education (ASEE) Fellow. Dr. Constant joins the prestigious group of 402 Fellows in ASEE, "a national nonprofit organization of individuals and institutions committed to furthering education in engineering and engineering technology." She joins nine other ASEE Fellows from Iowa State University elected since the organization began in 1893. The last Fellows from Iowa State were elected in 2012. There are currently more than 12,000 members in ASEE.
To be considered for the fellow grade of membership, one must have an active membership in ASEE for ten years and provide outstanding contributions to engineering or engineering technology education. Fellows are elected by the ASEE Board of Directors.
Dr. Constant has been a member of ASEE since 1992 when she began her career as an Assistant Professor in the Department of Materials Science and Engineering. She joined the Materials Division and the Women in Engineering Division where she served in various leadership roles. Constant served as the program chair and Division Chair in the Women in Engineering Division. Most recently she has spent her time serving in leadership roles of the ASEE Diversity Committee and is currently the lead for the conference planning group.
"I was and remain very surprised and humbled to receive this honor as I have always respected and admired those Iowa State educators that are also fellows, including Dean Emeritus Jim Melsa, current Dean Sarah Rajala, and other great educators including George Burnet, Arv Eide, Diane Rover, and MSE's own Larry Genalo. It is hard to imagine myself listed among these people that I know have contributed so much to engineering education," said Dr. Constant.
Iowa State University ASEE Fellows: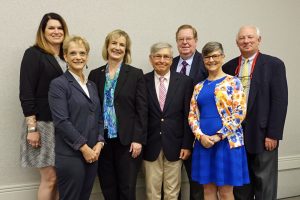 George Burnet, 1983
Paul E. Morgan, 1984
Edwin C. Jones, Jr., 1986
Robert M. Anderson, Jr., 1988
Arvid R. Eide, 1999
Sarah Rajala (received while at Mississippi State University), 2006
James L. Melsa, 2006
Lawrence J. Genalo, 2012
Diane T. Rover, 2012
Dr. Constant has been an influential leader in ASEE as well as throughout her career as a professor at Iowa State University. She is a Morrill Professor and Chair of the Department of Materials Science and Engineering.  She is also the Wilkinson Professor of Interdisciplinary Engineering. Dr. Constant received the Iowa State University Award for Departmental Leadership in 2016 and was recognized by Women in Science and Engineering (WiSE) in 2017, receiving the Inspiring Change ISU Administrator Award for superior service toward promoting culture change at Iowa State. Dr. Constant is known as a university leader who encourages diversity and inclusion for all people at Iowa State.
"I am most proud of my efforts to broaden participation towards improving engineering education- both for the people engaged in it, but also to develop better engineers and engineering solutions to the critical problems we face. I will continue to work toward creating an inclusive environment for people who work and learn at ISU. I truly believe this is the best way to reach our potential for providing excellent education and producing excellent engineers," she said.
In pursuit of academic excellence, ASEE develops policies and programs that enhance professional opportunities for engineering faculty members, and promotes activities that support increased student enrollments in engineering and engineering technology colleges and universities. Strong communication and collaboration with national and international organizations further advance ASEE's mission.
ASEE also fulfills its mission by providing a valuable communication link among corporations, government agencies, and educational institutions. ASEE's 12,000+ members include deans, department heads, faculty members, students, and government and industry representatives who hail from all disciplines of engineering and engineering technology. ASEE's organizational membership is composed of 400 engineering and engineering technology colleges and affiliates, more than 50 corporations, and numerous government agencies and professional associations. ASEE directs many of its efforts at providing for open and ongoing dialogues among these groups.